Around College
Solved: Mystery of Nancy Drew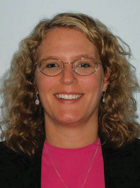 Once the nation's favorite 16-year-old amateur detective and the inspiration for all sorts of mid-20th-century girl power, Nancy Drew is turning out to have more lives than, well, ­Catwoman. Just when the teen-mystery idol — deconstructed by feminist critics and often diluted by publishers since her heyday from the 1930s to the '50s — seemed a candidate for cultural irrelevance, Nancy is back in the spotlight with a newly revealed fan and advocate: incoming Supreme Court Justice Sonia Sotomayor.

That comes as no surprise to Carolyn Carpan, director of public services at Burke Library, who published Sisters, Schoolgirls, and Sleuths: Girls' Series Books in America in December. The book, a social history of girls' series ­fiction since the 1840s, examines more than 100 book series with an eye toward how they reflect and challenge the culture of the era that produced them. With large swaths of Sisters, Schoolgirls, and Sleuths devoted to Nancy, Carpan's scholarship now seems prescient.

"Nancy Drew was an assertive, adventurous and intelligent young woman when she debuted in 1930," Carpan says. "She was transformed from a larger-than-life character into an ordinary teenage girl when the book series was updated in the 1950s. It is ironic that the diluted Nancy Drew became a feminist icon who inspired Judge Sotomayor and many other women to be bold and independent, but it is possible we would never have known Nancy Drew if she hadn't become a shadow of her former sassy self." Other high-profile women to cite the young crimestopper as a role model in recent years include Hillary Rodham Clinton, Laura Bush, Oprah Winfrey, Sandra Day O'Connor and Ruth Bader Ginsburg.

In addition to Sisters, Schoolgirls, and Sleuths, which is published by Scarecrow Press, a Rowman and Littlefield imprint, Carpan is the author of Rocked by Romance: A Guide to Teen Romance Fiction (2004) and Jane Yolen (2005).
— Contributing Vige Barrie
Around College Section