A look at Cronkite's War: His World War II Letters Home
By Charlotte Hough '14
It all began in the woods. In late August of 2007, Publius Virgilius Rogers Professor of American History Maurice Isserman first connected with Walter Cronkite IV '11 on an Adirondack Adventure trip associated with the Adventure Writing course he would teach that fall.
"When you're on AA with your students and they see you roll out of your sleeping bag at six in the morning, and grumpily drink your morning coffee, eat your morning oatmeal, they know you in a way that's different from the classroom experience," says Isserman of his first encounter with Cronkite. The relationship they would form on that trip and later during Cronkite's first year would bring them close enough to eventually coauthor a book, Cronkite's War: His World War II Letters Home. The book weaves a contextual narrative on the war with letters that the student's grandfather, famed CBS news-anchor Walter Cronkite, Jr., wrote home to his wife, Betsy.
The idea for the book surfaced when Walter IV and his father came to Isserman with copies of wartime letters that they had found among his grandfather's papers. They had been tucked away in a box at Cronkite Jr.'s alma mater, the University of Texas-Austin, neglected and forgotten after having been donated to the school upon Cronkite's death in 2009. Both father and grandson had spoken to Walter Jr. about WWII — "it had been a very formative experience for him," Isserman says — but during these conversations, the recent Hamilton alumnus' grandfather had never mentioned the letters.
"They really form a record of his wartime experience in London, where he was covering the air war … and then on the continent, where he was able to go after the invasion," Isserman says. "They are a very exciting collection of letters. They also make it clear how much he adored his wife and missed her."
Walter IV and his father approached Isserman, intrigued, but unsure about the historical significance of the letters or what they should do with them. "I thought they told a great story about the war and about wartime journalism, and also about this relationship," Isserman says, recalling fondly the reassuring voice of "Uncle Walter" that had nightly echoed through his home, delivering news on important events such as the Kennedy assassination and the Reagan inauguration. "For someone of my ­generation … it was fascinating to see this younger Walter Cronkite emerge from the letters when he was just starting out as an ambitious, young reporter." After the initial conversation, Isserman took a trip to Austin with Walter IV to collect the ­letters and other supplementary materials, and they put together a book proposal.
"The nice thing about [the Adventure Writing course] and about Hamilton is that you tend to be closer with your students than if you were at a big anonymous institution," Isserman says. "We worked together very comfortably because we knew each other very well, just from our classroom experience."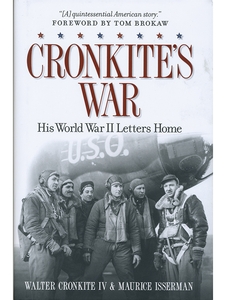 Cronkite's War illuminates the daily challenges a wartime correspondent can face while abroad: homesickness, adjusting to life in a new city and living on a budget. Cronkite chronicled how the city of London had been transformed by the war — crowded on the weekends by the influx of Americans, Canadians and British on leave, but also forced to ration and follow ­blackout procedures at the threat of German bombing raids. Cronkite worked long hours and spent his free time stopping for drinks with friends and writing home to Betsy, a fellow journalist.
He would share with her daily living challenges as well as professional concerns. Often Cronkite would have to struggle to get a story through the military censors before a competitor could. On his way back from covering Operation Torch, the British-American invasion of French North Africa in 1942, he hitched a ride on an observation floatplane to beat a rival correspondent from the International News Service. At the same time, he maintained friendly relationships with his colleagues, a habit that his grandson finds notable.
"The most interesting part for me was, as a young, aspiring journalist myself at the time, seeing what he did right in his career and what he was worried about," says Walter IV, now an associate producer for CBS News. "I learned from him through those letters."