Over the next few weeks, students will pore over maps to develop a sampling plan; "hire" airplanes to do magnetic surveys that narrow the field of search (the airplanes are toys, the survey data are real); and keep their sampling plan within budgetary and logistical constraints (the cards deal out Monopoly-style fates: "Your vehicle has broken down" or "A worker has found a large, colorless stone!"). Sites selected, it's off to the lab to analyze real samples -- rocks and soil collected from diamond "pipes" (gem-bearing formations) in Africa. Finally, students must justify their exploration prospects to a working geologist employed in precious mineral exploration, brought in just for the occasion.
Tewksbury's class is a far cry from traditional introductory geology: a "survey" course where students learn a little about a laundry list of topics. Her course is interdisciplinary by design, encompassing geology, history, sociology, politics and geography. "Chalk talks" (traditional lectures) are kept to a minimum; Tewksbury feels students learn best when they are teaching themselves, teaching peers or working independently to solve problems.
Diamond exploration is an advanced subject for an introductory geology class, notes Heather McDonald, chair of the geology department at the College of William and Mary, and, like Tewksbury, a past president of the National Association of Geoscience Teachers. "Other faculty can't believe Barbara's first-year geology students can complete these sophisticated problem-solving assignments," McDonald says. "But they do."
Tewksbury, who currently serves as the president of the American Geological Institute, has received numerous grants from the National Science Foundation to lead workshops on innovative teaching. She says she likes to take an approach that is "topical, narrow and deep." "By learning a lot about a narrow range of topics, students become experts," Tewksbury notes. "Instead of 'learn a little, memorize, go on to the next topic,' they quickly get to the point where they can do interesting things."
"I think Barbara is one of the most creative teachers I have met in my life," says McDonald. Others agree; last year Tewksbury's course was recognized by the American Association of Colleges and Universities as a "model college science course" for the way it links science teaching to human issues. Through a program called SENCER (Science Education for New Civic Engagement and Responsibility), the course materials will be available to other college professors nationwide.
"You learn a great deal of geology without really realizing it," enthuses Keith Tyler '06, who took the course his first year. "You get a better grasp on the subject when it's more hands-on." Tyler wasn't planning a geology major when he came to Hamilton but changed his mind after taking the class -- as did four of his classmates.
The next stop on our classroom tour is the Beinecke Student Activities Village Fillius Events Barn. Backlit by sunlight streaming through big windows, two students hold slender, stringed instruments called berimbau. A third student explains how her group made these instruments -- by hand, from native maple wood bent in the shape of an archer's bow.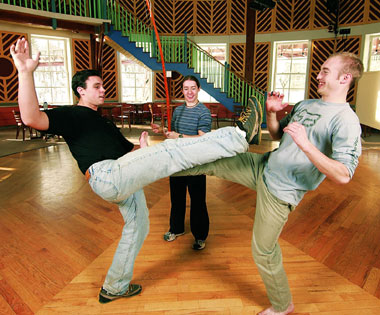 The traditional instruments accompany a playful, dance-like Brazilian martial art called capoeira, created 400 years ago by African slaves who needed to hide fighting skills from their captors. The students demonstrate how the instruments produce varied sounds -- a coin pressed to the lone string changes its length and hence, pitch; a dry gourd serves as a resonator. Finally, two at a time, the students clasp hands ceremonially and, to the berimbau's percussive melody, whirl across the polished wood floor in the one-armed handstands and low, scissoring kicks of capoeira.
This is no dance class, however, or even a history class; it's a sophomore seminar, specifically The Physics of Musical Sound, co-taught by music professor Samuel Pellman and physics professor Brian Collett. For this assignment, students selected an instrument and studied it from various angles: its history, construction, how it is played, its cultural role -- and the physics behind its sound. Custom sound analysis software, developed by Collett, lets students record sound clips on personal computers, then compare such aspects as frequency, pitch and amplitude to sounds from other, similar instruments.
Alicia Cardina '05, who plays French horn in the Hamilton orchestra and sings with the College Choir and the Hamiltones, took this class last year, and she appreciated the interdisciplinary approach to a challenging subject. "I've been interested in music all my life, but I'd never taken a physics class," she says. "I was a little intimidated. This seemed like a good way to reach into the subject."
Hands-on class activities were Cardina's favorite part of the class. For the instrument-making exercise, she built a French horn from polychloride pressure tubing, with a poster-board bell. "It only had resonance for certain frequencies," she laughs. "So I could only play certain notes."
She also liked the class activity to investigate the acoustical properties of indoor spaces; walking around campus, students took measurements in Wellin Hall, the Chapel and a conference room, among other places. "We popped balloons, then used an oscilloscope and stopwatch to measure how sound faded away in the different rooms," Cardina says. "When our choir goes on tour now, I have a much better understanding of why some spaces are resonant and others are acoustically dead, or how environmental factors affect my horn playing."