Timothy Elgren Ph.D.
Professor of Chemistry
Contact:
telgren@hamilton.edu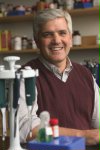 Elgren's current efforts are dedicated to the examination of metalloproteins encapsulated in sol-gel glasses. The porous nature of these materials allow the encapsulated enzymes to retain their catalytic functions. The transparent materials also allow us to examine the properties of the enzymes using spectroscopic methods.
Elgren has received numerous grants and has published articles in the Journal of the American Chemical Society, Biochemistry, the Journal of Chemical Education, and The Chemical Educator. He is the past president of the Council on Undergraduate Research.
Topics:
Biochemistry,Biophysical chemistry,Myoglobin,Undergraduate research