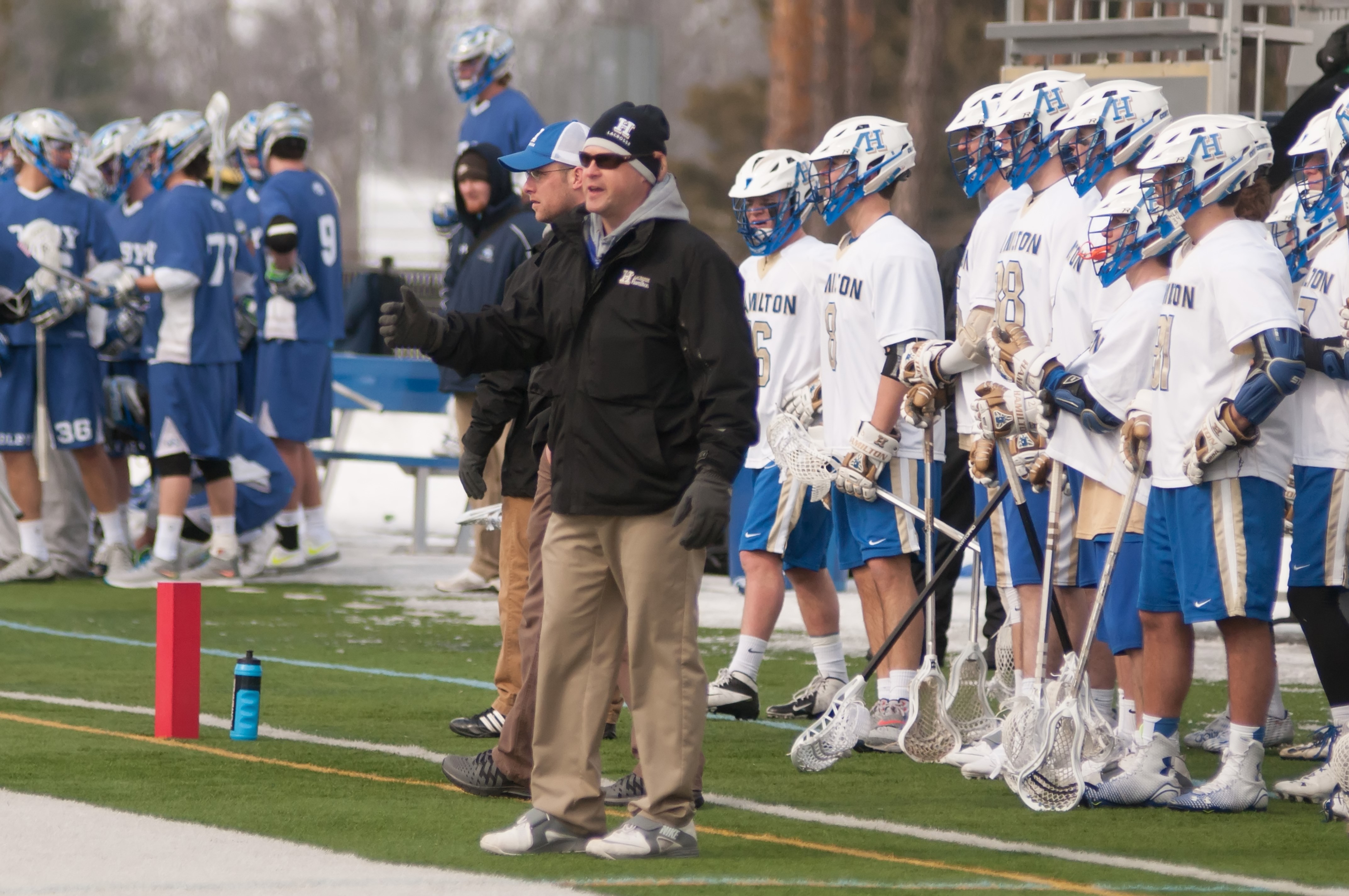 The Hamilton College men's lacrosse team dropped an 11-8 decision at nationally ranked No. 7 Middlebury College in NESCAC action on Wednesday.

Box score

The Continentals (6-4, 2-4 NESCAC) outscored the Panthers 3-0 in the third quarter to pull to within a goal before Middlebury sealed the win with five straight goals.

Pax Anthos '15, Jack Gaul '18 and Joe Ricciuti '16 each scored a goal in the third and Will Driscoll '15 stopped all three shots the Panthers took as Hamilton closed to within 6-5 after trailing 6-2 at halftime.

The Panthers (8-2, 5-1 NESCAC) responded by scoring on three of their first four shots in the fourth quarter to pull away for the victory.

John Zimmerman '15, who led Hamilton with a goal and two assists, scored and then assisted on a goal by Connor Morgan '15 as the Continentals scored three times in the final 103 seconds. Zimmerman has 98 career points. Anthos and Ricciuti scored a pair of goals apiece to lead Hamilton.

Henry Riehl '18 scored three times for Middlebury and Jack Cleary '16 added two more. Riehl scored two goals and assisted on another in Middlebury's game-clinching 5-0 run to start the fourth quarter.

Riehl fed Tim Giarusso '16 for a goal 3:55 into the final period, then scored his second goal of the game 59 seconds later. A goal by Joseph Zelkowitz '17 followed 13 seconds later.

Riehl and Joel Blockowicz '15 scored early in the first period to put the Panthers on top 2-0. Ricciuti scored off a Zimmerman assist to put Hamilton on the board with 2:38 left in the quarter.

Cleary and Hamilton's Pat Donahoe '16 traded goals to open the second period before Middlebury scored the last three goals of the half to take a 6-2 lead into intermission. Sean Carroll assisted on two of the three Panther goals.

Middlebury outshot the Continentals 47-34, including a 23-12 advantage in the first half.

Driscoll made 13 saves for Hamilton before being replaced by Noah Weissman '18, who held the Panthers scoreless for 3:07 in his collegiate debut.

Driscoll, Dylan Lahey '15 and Eric Zurmuehle '18 each picked up three ground balls. Lahey and Sellers Garrett '16 combined for five caused turnovers. Driscoll entered the day ranked 14th in Division III with 15.00 saves per game and 28th with a .622 save percentage.

Middlebury's Cal Williams '15 led all players with eight ground balls and four caused turnovers. John Jackson '18 collected five ground balls and Eric Rogers '18 had four as the Panthers posted a 36-23 advantage. Will Ernst '17 earned the win in goal stopping seven shots.

The Continentals host Trinity College on Saturday, April 4, at 1 p.m. while the Panthers host Colby College on Saturday.