Softball drops doubleheader with Wesleyan
---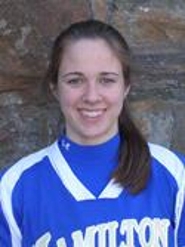 Hamilton College was swept by host Wesleyan University in a New England Small College Athletic West Division doubleheader on April 3.
Wesleyan (13-6 overall, 3-0 NESCAC West) rallied to win the opening game 4-3 by tying the score with a run in the seventh and then scoring a run in the eighth, and went on to win the second game 8-4.
Amy Appel '13 pitched all seven-plus innings in Game 1 for the Continentals (2-11, 0-3). Appel struck out one and allowed three earned runs on 11 hits. Melissa Kaknis '13 finished with three hits and one RBI. Rachel Rapoza '10 had a triple, two RBI and scored a run. Liz Farrington '10, Appel and Mandy Hyne '11 each finished with one single.
Wesleyan led 2-0 going into the seventh inning after scoring one run in third and one in the sixth. Hamilton scored three runs in the top of the seventh to take a 3-2 lead. Hyne singled and advanced to second on a wild pitch. Lisa Faraci '13 walked and Rapoza tripled to left center to drive in the two runs. Kaknis followed with a single to drive in Rapoza. The Cardinals scored one run in the bottom of the seventh to tie the game, and scored again with no outs in the bottom of the eighth for the win.
Hyne pitched all six innings in Game 2. She had three strikeouts and four walks. She allowed five earned runs on eight hits. Leigh Sherrow '11 finished with a double and a single, one RBI and scored one run. Liz Reid '11 scored one run, hit her first collegiate home run and drove in two runs. Kristen Pallen '12 had one hit and scored one run, and Amanda Nardi '11 recorded two hits and scored one run.
Wesleyan scored six runs in the bottom of the first. Reid led off the top of the second with her homer to center field to make the score 6-1. The Cardinals added to their lead with two runs in the bottom of the second. In the top of the sixth, Sherrow singled to right field and advanced to third on a Kaknis single. Sherrow scored on a sacrifice fly to center by Reid. Pallen and Nardi scored two more runs in the top of the seventh -- helped by an infield throwing error -- for the final margin.
The Continentals return to action on Tuesday, April 6, when they host a non-conference doubleheader against Utica College.