Humanities and Social Sciences Teaching and Research Using Maps and Spatial Data - Janet Simons

January 13, 14, and 15, 2011

A Workshop for Faculty, Instructional Technologists, and Librarians

Where: Hamilton College

What: This workshop presents a rare opportunity for faculty and staff to explore the potential of spatial thinking to improve pedagogy. The past few years have seen an explosion in free, easy to use, web applications that approach the power and flexibility of traditional Geographic Information Systems. As a result, scholars from across the academic spectrum have employed these tools to enable them and their students to pursue research questions from a spatial analysis perspective. Guided by three experts with deep knowledge of tools and techniques for integrating web mapping across multiple disciplines,participants will engage in a sequence of collaborative learning activities that will:

build literacy and skills in spatial thinking and digital cartography,
clarify faculty teaching and research interests that would benefit from a geospatial approach,
foster intra- and inter-institutional teamwork, and
explore project development and support options.

It is expected that faculty and staff will learn and work together on day one, while days two and three will be more in-depth hands on technology exercises. Participants can choose to attend Jan 13th only or choose to participate in all three days. These workshops will give participants the tools to work collaboratively on future projects. Space is limited for this workshop and interested participants are encouraged to apply now.

Creating Forms - Maureen Scoones

Wednesday, January 5, 2011 1:30 - 3 p.m. , LIB 001
Tuesday, January 11, 2011 9:30 - 11 a.m. , LIB 001

Our web pages are filled with forms in all shapes and sizes e.g. web forms, Word forms, and PDF forms. A variety of tools exist to create forms and during this session, you'll learn about the tools and how to decide which tool to use and when. If interested, please register.

Web Editing with SiteManager - Maureen Scoones

Whether creating a page for your administrative office, academic department, student organization, or your own professional page, SiteManager, Hamilton's own web editing tool, can be used to create your web presence. Check out the January class and working session schedule.
---
Information Technology Services is rebuilding its home on the Web (http://www.hamilton.edu/information-technology-services), and we are looking for suggestions from the community on how to make our site a better resource for your technology needs. The overall goal for this project is to restructure the ITS website in a way that is simple and effective, and engages users while facilitating communication.
Please take a few minutes to fill out our questionnaire. It will help us identify your needs. Thank you! The ITS Site Redesign Steering Committee: Ted Fondak, Jason Quatrino, J.D. Ross, Maureen Scoones, David Smallen, and Michael Sprague (Chair).
Did you know that you can store and view PDF files on your iPhone, iPod and iPad?
In late November, Apple released an updated operating system (iOS 4.2) for its mobile devices and with this update, iBooks, a free app, is now available for the iPhone and iPod touch.
Update your device
Connect your iPhone, iPad, or iPod touch to your Mac or PC and follow the onscreen instructions in iTunes. Launch iTunes and it will prompt you to update.
Launch Safari and login to Blackboard. Locate a PDF file within a course. Touch the file and it will open within a new page in Safari. At the top of the page you will see buttons that say "Open In" and "Open in iBooks." Touch "Open in iBooks" and the file will download to your iBooks library.
If you are like 25% of the rest of the campus you probably received a brand new computer this past summer. Now while you are very excited and happy that you have a new computer, you may, from time to time wonder what happened to your old friend. It probably doesn't keep you up at night, but on occasion before your head hits the pillow you think of your old friend Mr. iMac. Sure his mouse was a little dirty and the ball in it didn't work, but he still had some life left in him.
So what does the College do with your old computer?
The moment that your new computer hits your desk, the old one is lovingly transferred to the Desktop Integration Services group within ITS. It is there that we carefully inventory your computer and create a full backup of it for you in case any of your data gets lost. Once your backup is created and verified to be good, the data on the hard disk is wiped using Department of Defense grade utilities so that your information is securely destroyed.
As the process of replacements occurs over the course of the summer, the equipment is carefully tallied and a listing is built of everything that is available. That listing of equipment is then published to a group of vendors who are licensed computer refurbishers and recyclers. Each vendor submits a sealed bid for the whole list of equipment. Once bidding is concluded a winner is announced and the whole group of computers is picked up by the vendor. The vendors that currently submit bids ranges from local companies in Rochester and Albany to larger outfits as far West as Oklahoma City. Once the vendor picks up the equipment, they inventory it for condition to find out what they can refurbish and resell. Items which have resale value are wiped (again!) and refurbished by the vendors and resold. The vendors provide the College with a certification of data destruction before the items are resold. Items which have no resale value are recycled according to EPA standards.
Now you may wonder why if the items are resold by another company, why can't I just buy it from the College?
You may have a child or grandparent that could use that extra computer and it's been such a trusted friend and it's hard say goodbye. That's a great question and the answer lies not in the hardware, but in the software which resides on it (Windows, Office, etc.). The College is the owner of the software on the machine and the licenses are not transferable. This means that any machine that you would get from the College would come with no Windows (won't boot up), no Sophos (no anti-virus to keep the nasty's out), no Office (might as well get a stone tablet and an abacus) and no user data (as we wipe the machines we can't load data on an empty hard disk). It was determined that to have the same suite of software on the machine as what you use would exceed the value that a four year machine would have, on top of the fact that the reliability of a four year machine can be a little suspect. In almost all cases it makes more sense to buy new and get a warranty and new software instead of putting almost the same money into a four year old machine with no warranty.
HillConnect Warning Messages

If you access HillConnect via a web browser, e.g. Firefox or IE, and it looks like something unusual is going on with your account, Google will alert you by posting a warning message saying, "Warning: We believe your account was last accessed from…" along with the geographic region that they can best associate with the access. The best case scenario is that you are using different computers on campus to access your e-mail and you will see a campus IP address (150.209.x.xxx) instead of another country. The worst case scenario is that your e-mail account has been compromised and you need to take immediate steps to change your password.
To see where your account was last accessed, click on the Details link next to the warning message. If you think your account has been compromised, you can change your password from the same window. Or, if you know it was legitimate access you can click Ignore to remove the message.
You can check the details of your account activity and set your preferences for alerts by clicking on the Details link located at the bottom of the screen under your quota information.

Multiple Inboxes

If you use a lot of labels and would like to have multiple label windows open at once, Multiple Inboxes may make your life just a little bit easier.
Click on Settings and then Labs
Locate Multiple Inboxes and click on Enable
Scroll to the bottom of the list and click on Save Changes
You will now have a Multiple Inboxes option on your Settings tab. You can indicate which labels you want to see and how they are displayed.

Priority Inbox
Have you ever missed an important e-mail message? Google knows how you feel and recently introduced a new lab, Priority Inbox that may be just what the doctor ordered. Through a series of settings, Priority Inbox attempts to automatically identify your important incoming messages and separate them out from everything else. To start using Priority Inbox, click on Settings in the upper right corner and then click on Priority Inbox. Watch the video and read more about the option.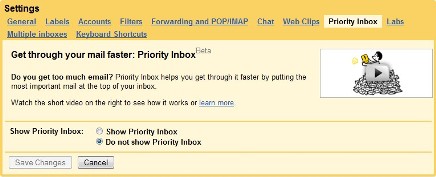 ITS Help Desk
| | |
| --- | --- |
| Tues., Dec. 14 - Thurs., Dec. 16: | 8:30 a.m. - 10 p.m. |
| Fri., Dec. 17: | 8:30 a.m. - 8 p.m. |
| Sat. & Sun., Dec. 18-19: | Closed |
| Mon. - Wed., Dec. 20-22: | 8:30 a.m. - 4:30 p.m. |
| Thurs., Dec. 23-Sun., Jan. 2: | Closed |
| Mon., Jan. 3 -Fri., Jan. 7: | 8:30 a.m. - 4:30 p.m. |
| Sat. & Sun., Jan. 8-9: | Closed |
| Mon., Jan. 10 - Fri., Jan. 14: | 8:30 a.m. - 4:30 p.m. |
| Sat. & Sun., Jan. 15-16: | Closed |
| Mon., Jan. 17: | Resume regular hours 8:30 a.m. - 10 p.m. |
Multimedia Presentation Center (MPC)
| | |
| --- | --- |
| Fri., Dec. 17: | Lab closes at 8 p.m. |
| Sat., Dec. 18: | 10 a.m. - 2 p.m. |
| Sun., Dec. 19: | Closed |
| Mon. - Wed., Dec. 20-22: | 8 a.m. - 5 p.m. |
| Thurs., Dec. 23-Sun., Jan. 2: | Closed |
| Mon., Jan. 3 -Fri., Jan. 7: | 8 a.m. - 5 p.m. |
| Sat. & Sun., Jan. 8-9: | Closed |
| Mon., Jan. 10 - Fri., Jan. 14: | 8 a.m. - 5 p.m. |
| Sat., Jan 15: | Closed |
| Sun., Jan. 16: | 1 p.m. - Midnight |
| Mon., Jan. 17: | Resume regular hours 8 a.m. - 2 a.m. |
Camera Loans
Any cameras on loan must be returned by 7 p.m. on Tuesday, December 14. No cameras will be loaned for off campus use over the break.
| | |
| --- | --- |
| Wed., Dec. 15 - Sun., Jan. 16: | Closed |
| Mon., Jan. 17: | Resume regular hours 5 - 7 p.m. |
Digital Arts Lab (DAL)
| | |
| --- | --- |
| Thurs., Dec. 16 - Sun., Jan. 16: | Closed |
| Mon., Jan. 17: | Resume regular hours 1 p.m.-12 a.m. |
---