Its a bittersweet time in ITS. This month as we prepare to say farewell to our wonderful colleague Marilyn Huntley, we are also excited to announce the date we'll unveil the newly redesigned ITS website. Wishing everyone an enjoyable holiday season (look below for some shopping advice) and restful break!

After 20 years at Hamilton College, Marilyn Huntley will be retiring on January 3, 2012. Marilyn started her career at Hamilton working in the library and after one year shifted to Audiovisual Services as the Coordinator, scheduling the student workers providing event support. One year later, she replaced Kay Klossner as the AV Assistant when Kay took a job in the Office of the Registrar. This is when Marilyn truly started her career in AV as the film specialist.

Marilyn's job duties changed over the years, but the work involving films has always been a major part of her job. Over the years she has handled thousands of films from actual 16mm films, Laser Discs, Beta Tapes, VHS Tapes, Digital Video tapes, DVD's and Blu-Ray discs. When AV moved into the Burke Library a couple years ago to be in the main ITS offices, her job evolved once again. Most recently, Marilyn has been working in the combined position of the Coordinator and AV Assistant.

While we wish Marilyn much happiness in her retirement, she will be a hard act to follow. She will be greatly missed by her team mates and the many faculty who have depended on her many years of experience in locating the films they require to teach their classes.

Please join us on Wednesday December 21 from 3:30 - 4:30 p.m. in the Browsing Room on the first floor of Burke Library to wish Marilyn a happy retirement!
---
ITS Website Redesign - Mike Sprague
ITS will unveil a completely new look and experience for its website on January 11, 2012. For the last several months, we have been conducting research of peer institution technology sites, soliciting feedback from the campus community, and holding focus groups with various campus audiences. The result of the research and subsequent development process is a completely redesigned website, search functionality, and documentation. The new site showcases three different ways to find help resources: Search, By Task, and Browse.

In addition, ITS will introduce several new features including the option to e-mail, print, and comment on help topic webpages, and include popular topics and events on the home page. Contact information will be prominently displayed to help the community find the right person to contact for additional help.
In the weeks following the launch, ITS will hold information sessions that will be open to the campus community; the schedule appears below. We will also be actively soliciting feedback for further improvements to site at these sessions, as well as through the website itself.
ITS Website Feedback Sessions
Thursday, January 12, 2012, 1:30 - 2:30 p.m. - SCCT 3039
Tuesday, January 17, 2012, Noon - 1 p.m. - SCCT 3039
Friday, January 20, 2012, 1:30 - 2:30 p.m. - KJ 202
Wednesday, January 25, 4:10 - 5:10 p.m. - SCCT 3039
Thursday, January 26, 4:10 - 5:10 p.m. - KJ 202
Holiday Buying Guide for Computers - Ryan Coyle
It's that time of year again and people are feeling jolly and spreading the Holiday cheer. If you're like many people, you may be thinking of upgrading that aging computer of yours. Sure it's served you well all these years, but you're thinking gee, with all these holiday specials, maybe it's time to get something new. But what do you get? How do you choose? Desktop, laptop, tablet, smartphone.. Argh. Well my friends, you are in luck. Let us give you a little guidance to help make picking out your next computer purchase that much easier. Check out our Holiday Buying Guide for Computers.
Holiday Buying Guide for Peripherals - Bret Olsen
Many faculty and students will be buying electronics over the break, and external hard drives and digital cameras are likely to be among them. For those members of the community who wish to buy these devices for use with any of the ITS supported labs and classrooms, we have some guidelines that will insure the most utility with the least frustrations. Check out our Holiday Buying Guide for Peripherals.
It's that time of the year when we all make resolutions to get more organized, live a more healthy lifestyle, etc. so why not do the same for your e-mail. This month's Tips and Tricks will help you start off the new year on the right foot!
SiteManager classes and working sessions continue to be offered. Whether creating a page for your administrative office, academic department, student organization, or your own professional page, SiteManager, Hamilton's own web editing tool, can be used to create your web presence.
2000s – The Web, Collaboration and Mobility
In July of 1999, President Eugene Tobin created a committee and charged it with creating a "best-in-class Internet presence for Hamilton." This committee became known as the President's Internet Initiative (PII). After working with a consultant, the PII focused its efforts on redesigning the website to first address the needs of external audiences, primarily prospective students and alumni. In the original charge to the committee President Tobin also indicated that he wanted the PII to "more fully integrate the Internet into the educational, communications and business operations of the College." From the time a student applied to Hamilton, was accepted, registered for courses, paid his/her bill and donated back to the College as an alumna, these operations would now be done online.
The new decade also saw the creation of new Library/ ITS collaborative efforts, in the form of an organization called the HILLgroup, Hamilton Information and Learning Liaisons. One of the first projects the HILLgroup took on was working with Professor of English John O'Neill in the creation of a new course called Jane Austen: Text and Film. Participating in a project funded by the Mellon Foundation, a HILLgroup team consisting of Kristin Strohmeyer from the Library, Janet Simons from ITS, and Colleen Fenity '02, partnered with Professor O'Neill to work through the issues of how the film versions of Jane Austen's work could be incorporated in the course. Students would incorporate excerpts of the film in their presentations.
In January 2003, the Booth Ferris Foundation provided a grant of $100,000 to create the Multimedia Presentation Center (MPC) in what is currently the all-night reading room of the Burke Library. The focus of the MPC was on developing excellence in students' communication skills and the utilization of these skills through presentation in all its forms. This effort supported Hamilton's 2002 strategic plan. Students, raised in a media-rich environment, wanted to incorporate all forms of media into their presentations. Their work in the MPC was the culmination of a process that every student followed: locating and evaluating information, analyzing and synthesizing that information to create knowledge, then communicating that knowledge to others. In writing about the MPC, President Tobin said, "Our Multimedia Presentation Center, …, will transform the ways in which our students and faculty communicate their ideas and knowledge to their peers and to the public at large."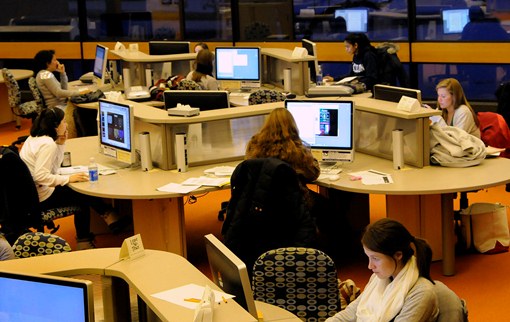 Soon after, the Library and ITS created the Information Commons (IC) to focus on the knowledge creation process. Students were entering a diverse, complex, and global society in which electronic communication and access to information via computer networks was commonplace. Leaders in this world needed to know how to collaborate with others, to access, evaluate, synthesize, and analyze information, make decisions based upon that analysis and communicate those decisions in a way that will move others to action. The IC and MPC were the settings in which these collaborative activities took place and they were soon co-located on the first floor of the Burke Library.
Mobile computing was coming into its own with high-powered and low cost laptops. Incremental expansion of wireless computing at Hamilton continued until 2007 when trustee David Solomon provided the funding to extend wireless access to all parts of the campus. By the end of the decade 97% of students brought laptop computers to campus. All these devices used wireless access to such a degree that wired connections in residence halls, which were put in fifteen years earlier, were hardly used.
As the decade came to a close, the number of college-owned computers had grown to over 1,700. Use of technology in the academic program continued to accelerate, with the renovation and additions to the Science Center and the Kirner-Johnson buildings. The number of technology-enhanced spaces on campus increased to over one-hundred and the Internet had become a basic utility on campus, with access to e-mail and the Web becoming important parts of campus life. Mobility was about to move to a new level with the rapid adoption of smart phones, tablet devices and e-book readers.
In our final installment in January we will look ahead to where IT at Hamilton will likely go in the current decade and beyond.
back to top
ITS Help Desk
Thurs., Dec. 15:
8:30 a.m. - 10 p.m.
Fri., Dec. 16:
8:30 a.m. - 8 p.m.

Beginning Saturday, Dec. 17, The ITS Help Desk will be closed for the weekends and will resume regular hours following the start of classes Monday, Jan. 16

Mon. - Thurs., Dec. 19-22:
8:30 a.m. - 4:30 p.m.
Fri., Dec. 23-Mon., Jan. 2:
Closed
Tues. - Fri., Jan. 3 - Jan. 6:
8:30 a.m. - 4:30 p.m.
Mon. - Fri., Jan. 9 - Jan. 13:
8:30 a.m. - 4:30 p.m.
Mon., Jan. 16:
Resume regular hours 8:30 a.m. - 10 p.m.
Multimedia Presentation Center (MPC)
Fri., Dec. 16:
Lab closes at 8 p.m.
Sat., Dec. 17:
10 a.m. - 2 p.m.

Beginning Sunday, Dec. 18, the MPC will be closed for the weekends and will resume weekend hours on Sunday, Jan. 15

Mon. - Thurs., Dec. 19-22:
8 a.m. - 5 p.m.
Fri., Dec. 23-Mon., Jan. 2:
Closed
Tues. - Fri., Jan. 3 - Jan. 6:
8 a.m. - 5 p.m.
Mon. - Fri., Jan. 9 - Jan. 13:
8 a.m. - 5 p.m.
Sun., Jan. 15:
1 p.m. - Midnight
Mon., Jan. 16:
Resume regular hours 8 a.m. - 2 a.m.
Camera Loans
Any cameras on loan were due by 10 p.m. on Wednesday, December 14. No cameras will be loaned for off campus use over the break.
| | |
| --- | --- |
| Thurs., Dec. 15 - Sun., Jan. 15: | Closed |
| Mon., Jan. 16: | Resume regular hours |
Digital Arts Lab (DAL)
| | |
| --- | --- |
| Thurs., Dec. 15 – Sun., Jan. 15 | Closed |
| Mon., Jan. 16: | Resume regular hours |
---