Back to July 2013 ITS Newsletter
By Jesse Thomas
Google recently introduced a "new inbox" that's designed to help manage the sometimes overwhelming number of emails we receive - and it's now available for HillConnect. The new inbox groups certain types of messages into categories, which appear in tabs across the top of the web interface.

Image courtesy of Google
Predefined categories exist for Primary, Social, Promotions, Updates and Forums, and Google automatically filters messages into these categories for you.
You can enable the new inbox by clicking the gear icon below your name in the web interface and choosing Configure inbox, then selecting the categories you want to use.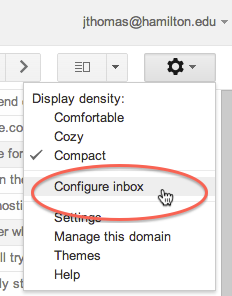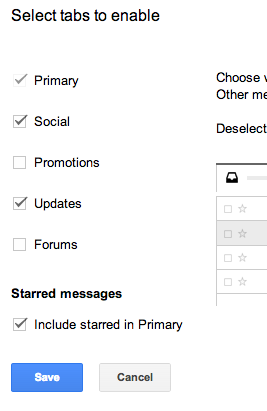 While the category names can't be changed, you can customize which messages appear in each by either dragging & dropping messages onto the tabs or by creating filters; you can also Star a message to make it appears in the Primary tab.
The new inbox is also available on mobile devices when using the Gmail app for iOS and Android.
Don't like the new inbox?
You can return to the standard inbox by simply unchecking the categories in the Configure inbox window.
More information can be found here: https://support.google.com/mail/answer/3055016?hl=en&ref_topic=1669050