Publisher Content in Blackboard
---
Back to July 2013 ITS Newsletter
By Deborah Reichler
Most publishers have additional digital content available for their textbooks (at an additional cost, of course). Some publishers have extensive online testing or assignment tools or even the ability to create your own textbook. Most of these tools can be integrated into Blackboard as long as you or your students have the appropriate publisher-provided key and/or account. Each publisher manages their digital content a bit differently, but, as you plan for fall courses, you may want to investigate what online content is available.
Blackboard offers seamless integration with the digital content of McGraw-Hill, Cengage, Wiley, Macmillan, and Pearson.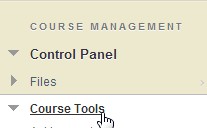 These tools are accessed in your courses either from the content areas (click the tab for Partner Content), the Tools area (or the Course Tools menu in the Control Panel), and sometimes in other areas as well (for example, under Assessments). We also automatically upload all textbooks to the Barnes & Noble Textbooks tool, which includes the Nook Study link in the Build Content menu. All in all, worth exploring!