It's hard to believe that it has been a year since we changed our e-mail system from Sun Java Communications Express to Google Apps for Education. One of the reasons we made the switch was because of the continual development of the Google product. Here are just a few of the enhancements now available or coming soon.

E-mail

Calendar

Color code your calendar events
You can now categorize your events using colors.
Manage your availability with Google Appointment Slots
Once you set up blocks of time you'd like to offer as appointment slots or office hours, coworkers and clients can sign up via your personal appointments sign up page. Please note: you need to view your calendar in Week View to make use of this new functionality. This may be of particular interest to places such as the Writing and Oral Communications Centers.
New default meeting length and printing options
You can now have a default meeting length of 15 minutes and it is possible to specify a date range when you print.

Contacts

You can now store up to 25,000 contacts, up from a mere 10,000 when we started.
---
Back in October 2010, ITS began working on redesigning our home on the web. We've made much progress and would like to get feedback from the campus community on the usability our new design. We'll be doing our usability testing the week of July 11, 2011. If you are interested in participating, please contact Nikki Reynolds (nreynold@hamilton.edu, x4091) or Maureen Scoones (mscoones@hamilton.edu, x4178) for more information.
Office 2010 (Windows)/Office 2011 (Mac)
The computer replacement cycle is in full swing. Each new computer includes the newest version of Office, 2010 for Windows or 2011 for Mac. If you are not scheduled to get a new computer, but are interested in using the newest version of Microsoft Office, please send an e-mail to dis@hamilton.edu. Employees who want to use the newest version at home are eligible for a Work at Home license. There is a small fee for this license. Contact Terry Lapsinski (tlapinsk@hamilton.edu, x4169) for details.
Most of the changes are minor, but the following may be of interest:
Office 2010
Microsoft added a File tab to the ribbon, they call it the Backstage view. The circular icon located in the top left corner, known as the Microsoft Office button, is gone.
The Print menu was revamped allowing for quicker access to configure items such as page orientation and double sided printing. A preview of your document is automatically displayed.
When copying and pasting text, it is possible to merge the source and destination formatting.
Word provides a tool for taking screen shots.
Office 2011
A Ribbon replaced the Formatting Palette.
Visual Basic is back!
Looking for a Word 2008 command in Word 2011? Microsoft's interactive guide can help.
FileMaker Pro 11
We are not yet ready to deploy FileMaker Pro 11. Therefore, if you are scheduled to get a new computer, you will still be using FileMaker Pro 6. As this time, our testing of the new version continues as we develop a repository that details the FileMaker databases currently in use and future database needs across campus. We have begun to setup meetings with existing FileMaker users. If you have not yet been contacted, you will be soon. Since the tools we have available to us are changing rapidly, we want to be able to help you work as efficiently as possible.
PaperCut
Students on campus during the summer months have been assigned a print quota of $28. Graduating senior accounts were recently disabled. Therefore, if you recently graduated and are still on campus and need to print, please contact the ITS Help Desk for assistance.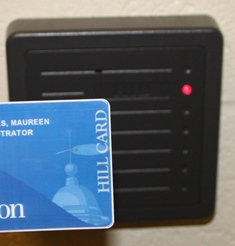 Over the summer the Kirner-Johnson and Science buildings will be enabled for Hill Card access. This means that there will be defined hours when the building is "open" to anyone and another set of hours when access to the building is controlled through use of the Hill Card (instead of keys). Kirner-Johnson has been open 24 hours per day since it was completed. Now, access to the building through the Hill Card will take place from late in the evening until early in the morning. In the past, the Science building has been closed from late in the evening until early in the morning. Now it will be possible to provide controlled access at other times, if that is necessary. The exact hours of access are to be finalized in meetings with departments in each building and the system should be fully operational by this August. Hill Card readers are currently being installed on selected exterior doors in KJ and the Science Center. Over the next year a plan will be developed for expanding card access to other campus buildings.
Use of card access to buildings can save money and provide an improved level of safety for members of Hamilton College. By automatically unlocking and locking buildings, the card system saves staff time for Campus Safety. When a card is lost it can easily be disabled. When a key is lost the cost of changing locks and keys can be substantial. Finally, limiting access to the building to members of the Hamilton community provides a measure of safety during early morning hours. Of course, security depends on people who have access to buildings not letting others they don't know into the building, for example, by letting people "tailgate" behind you as you enter.
Apple just celebrated its one year anniversary of the iPad by updating and releasing the iPad 2. As you have probably guessed, I pre-ordered the 16 GB WiFi model as soon as it was announced. I have only had this model for a few weeks, but I hope my findings will answer some questions you might have about this device.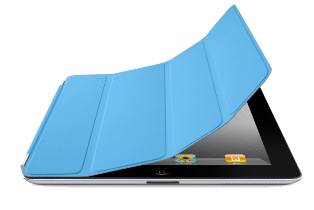 In this release, the device is much slimmer and lighter than the previous model. The iPad 1 was 1.5 pounds and measures 9.56" x 7.47 ", with a depth of .5". The iPad 2 is 1.33 pounds and measures 9.5" x 7.31 ", with a depth of .34". With the Smart Cover added to iPad 2, there is little difference in weight. The screen display is identical between versions. The keyboard spacing seems to be slightly wider in version 2. If you have never composed text on an iPad before, this might not seem as noticeable. For more experienced iPad users however, you will have to take a moment to re-aquatint yourself to the spacing. The iPad 2 seems to run more efficiently than the iPad 1. I have noticed that the current model seems to process and display content much faster. The device seems to respond faster between app launches and content manipulation.

Apple claims that the battery for both generations of iPads can provide up to 10 hours of video, 140 hours of audio playback, or one month in standby mode. Reviews from Engadget are reporting that is this as accurate as Apple claims. I have noticed that the iPad 2 battery seems to drain really quickly. I would estimate closer to eight hours of usage. This is based upon Internet surfing and application use like iWork (Pages, Keynote & Numbers).

There are two cameras incorporated into the device. One is front facing and the other is rear facing. I am disappointed in the quality of these cameras. The cameras capture images at 1280 x 720 pixels (720p). This roughly translates this camera quality to be less than one megapixel. So any still images will appear to be very grainy. Basically this level of technology is similar to the digital cameras of the early 1990's.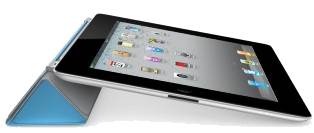 The Smart Cover is a very interesting design, where you can roll up the cover to form a triangular prop. Much to my surprise, the cover automatically turns the device on and off, with the use of magnets within the cover panels. So, when you open the cover it automatically unlocks the device. When you close the cover you will hear the click sound, indicating the device shutting down. This is a distinct difference from previous devices, where the user needs to slide to unlock the device. This function can be disabled in the system preferences.

Mirroring all display content seemed to be the Achilles' heel in the previous model. The iPad 2 can display video out to both VGA and HDMI displays (with the purchase of the Apple Digital AV Adapter). The HDMI port also allows audio pass through to your HDMI display. The down fall is that the video can only be displayed in a 4:3 aspect ration, also known as standard definition.

Apps like iMovie ($4.99) are now available and can be used on the iPad 2, iPhone 4 and the 4th generation iPod touch. Upon launching the app, iMovie looks for images, audio and video on the device. This is very much like how the iLife suite works on your Apple desktop or laptop system. The iOS version however is designed to quickly edit and share out your project (Camera Roll) to the web via social media tool (Facebook), web-based video repository (Vimeo, YouTube, MobileMe account), to your TV via AirPlay with Apple TV or through your iTunes account.

Overall, I am impressed with the physical updates and performance. I am disappointed in the limitations in both the standard definition mirroring, the quality of the built-in cameras and battery performance. If you have further questions about the iPad, mobile devices, or are interested in experimenting with these devices in your class, please email mobiletech@hamilton.edu.
Apps to consider:
neu.Annotate (FREE) If you like the functionality of iAnnotate and would like a free version, check this out
neu.Notes (FREE) Great note application without the cost
Notability (.99) Neat note app that allows you to record audio
Inside Higher Ed (FREE)
The Chronicle (FREE)
TED (FREE) Get your TED talks on the go!
Intellicast for iPad (FREE) Great app for all things weather related with interactive components!
Flipboard (FREE) Allows you to flip through your social media updates
AppStart (FREE) Great for app advice and reviews, a MUST for any new iOS user.
popplet lite (FREE) Visual organizer, similar to Inspiration but on an iOS device.
PREZI (FREE) Create cool interactive presentations on your iOS device!
Got apps you like to use? Send them along to mobiletech@hamilton.edu.
On-line Learning Opportunities
ITS subscribes to an online training library, Lynda.com, that contains over 1000 video tutorials you can access 24 hours a day, seven days a week. According to Lynda.com:
Learn software from Adobe, Apple, Microsoft and more.
Classes for beginners to experts.
Learn at your own pace: Play, pause, rewind.
Watch one tutorial at a time, or a whole course.
Please contact Maureen Scoones (mscoones@hamilton.edu, x4178) if you are interested in accessing these tutorials or have any questions about this service.
Hands-on Learning Opportunities
SiteManager classes and working sessions continue to be offered. Whether creating a page for your administrative office, academic department, student organization, or your own professional page, SiteManager, Hamilton's own web editing tool, can be used to create your web presence.
Culture, Liberal Arts and Society Scholars (CLASS) at Hamilton College
Basic literacies for the digital age are critical skill sets for students entering the professional
world in the 21st century. The Digital Humanities Initiative (DHi) provides new opportunities
for students in the humanities to become fully engaged citizens in this ongoing digital revolution.
Much of this revolution is taking place in the broadly defined field of the digital humanities.
The digital humanities is an interdisciplinary field of study, research, and teaching primarily
concerned with the intersection of computing and the disciplines of the humanities. As some
scholars have argued "the digital humanities today is about a scholarship (and a pedagogy) that
is publicly visible," and that may very well reinvigorate the humanities for the next generation of
leaders in the fields of teaching, communications, and new media.
In response to this explosion of interest, support, and scholarly production, the humanities-based
classroom is experiencing significant shifts: Hamilton's Digital Humanities Initiative (DHi) is
taking the lead in promoting new cross-institutional collaborations with faculty and students.
CLASS is an undergraduate fellowship and research program in the digital humanities based
on three-broad areas of scholarly inquiry and their intersection with new and emerging digital
technologies: 1) Culture, 2) Liberal Arts, and 3) Society. CLASS provides a unique partnership
between departments and programs across the liberal arts and humanities at Hamilton and the
Career Center.
CLASS provides students with skills training in digital literacies through intensive research and
scholarship coupled with two unique internship experiences. In the summer between sophomore
and junior years, students work alongside a faculty member and project team as a co-collaborator
on a proposed project. It is required that collaborative research in the digital humanities be
the primary focus of the student's summer work – the equivalent of a full-time job – typically
for 11 weeks. In the summer between junior and senior years, CLASS, in partnership with the
Career Center, offers undergraduate students an intensive professional development experience
and provides a comprehensive overview of work in their respective fields of interest. The
second internship experience is chosen by the student from an agreed upon list of pre-approved
opportunities with cultural organizations and/or multi-media business entities. After their second
internship experience students are prepared to enter employment and/or graduate study having
mastered a range of new digital literacies.
During Phase One of CLASS, five students were awarded with this unique opportunity to
begin in the summer of 2011. Subsequent years will provide funding for two CLASS students. Congratulations to this year's CLASS students and the faculty with whom they are working:
Sarah Bither - Kyoko Omori
Melissa Yang - Kyoko Omori
Brynna Tomassone - Angel Nieves
Randy Telfer - Thomas Wilson
Xinyang Li - Thomas Wilson
---