Need assistance from ITS

helpdesk@hamilton.edu

(315) 859-4181

Help Desk Hours
8:30 a.m. - 4:30 p.m. M-F
Closed Sa-Su

Summer Hours
(begin Tues., May 28)
8 a.m. - 4 p.m. M-F
Closed Sa-Su

Audiovisual Services
(315) 859-4120

From the Editor

- Maureen Scoones

As summer begins, it is again a time for ITS to deliver new equipment to you, upgrade software, and clean, repair and upgrade equipment in spaces around campus. Some of what we are working on is highlighted in this issue and more information will be provided next month.

If you are looking for a project of your own this summer, I recommend you read the article by Nikki Reynolds - you'll be guaranteed (only if you are motivated to do so) to begin the fall as a completely organized individual!

Wishing everyone a safe and enjoyable summer!

Windows 8 and Office 2013

- Maureen Scoones

Windows 8 is the newest version of Microsoft's operating system. In addition to using it in the old familiar way (keyboard, mouse, and touchpad) you can also use it by touching your screen if you have a "touch enabled" device like a tablet or some of the newer laptop or desktop computers available on the market. Office 2013 is the newest version of Microsoft's productivity suite (Word, Excel, PowerPoint) for Windows computers.

We are installing Windows 8 and Office 2013:

On new Windows computers slated for replacement during the upcoming cycle (if your computer is up for replacement you would have received notification from our Desktop Installation Services team earlier in the spring)
On Windows computers in TE classroom podiums and classrooms (Mac computers that are dual boot will run Windows 8 and Office 2013 on the Windows side).

As previously announced, ITS will be replacing Macintosh computers with new Mac minis in a number of labs and classrooms this summer. The tentative schedule planned for computer replacements is as follows: More...

Blackboard Upgrade This Summer

- Deborah Reichler

As usual, we will be upgrading Blackboard Learn, probably in late June. This year's upgrade will include a number of new tools and several old favorites which have been rewritten. All contain features which users have been waiting for, so read on and get excited ... More...
---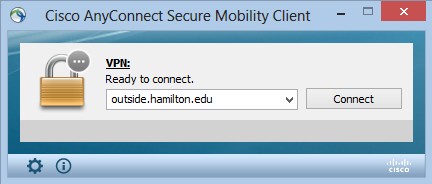 On Thursday, May 23, we are planning to upgrade our VPN clients so that they are compatible with the newest operating systems. All existing VPN users (Mac and Windows) will get the update automatically the next time they connect to the VPN on or after May 23. You'll see the download and installation processes, but won't be required to do anything. The interface will look a little different, but it will function the same.
If you are slated to get a new computer, you will need to install the new client. NOTE: The VPN client cannot be installed on a computer connected to the Hamilton network, either via Wi-Fi or a network jack. The instructions should only be followed on an OFF-CAMPUS computer. If you have any questions about this change, please contact the ITS Help Desk at x4181.
Do you have this problem: Between meetings, email conversations, shared documents, news, newsletters, web-based research, physical world research (the 3D experience, you know?) and random ideas, my desktops (physical and electronic), tablet, smartphone, refrigerator, whiteboard and sometimes office door are littered with notes, links, photos, recordings, lists and reminders of all kinds. How does one bring order to this chaos? As always, it depends ... More...
Sharing is a big thing in my house. With four small children, sharing is important, whether it's the TV, food, or a binkie. It is a mantra we preach daily and we've had some good luck with it. It helps us keep the peace in an otherwise hectic household. In the online world, people like to share as well. Perhaps, too much some would say.

Let's take for example sharing on Facebook. It's a giant online community designed for sharing. Many would say it is the core business of Facebook, for without it, it has no reason for being.

That said, some people like to share things. Some people like to share lots of things. Things that perhaps other people don't have a lot of interest in. Pictures of your breakfast, cats, that cool bug you saw on the sidewalk, your high score in Candy Crush, etc. While you may think that all of these things are interesting in their own right, not everyone in your friends list may think so. More...

Editor's note: Isn't she cute? It's my cat Hazel
Summer is a great time to make and capture memories. For me, I'm thinking about my oldest nephew graduating from high school (gasp!), the annual vacation my sister and I take (for those who know we've seen all 50 states, my sister is now thinking bigger - continents), and my 20th summer of being a volunteer camp counselor (please ask me to sing a camp fire song to you...). Sadly, my photography skills are a bit lacking.
If you, like me, would like to learn more about taking good pictures, Lynda.com has a new series called The Practicing Photographer. Each week, they'll release a new video that in less than 10 minutes will cover a topic. The first in the series, Choosing a Camera. These videos do not require an account.
If while on Lynda.com, you see another tutorial of interest, we subscribe to the full suite of tutorials. Among the 1000 plus tutorials are computer topics and many business titles. Contact me (mscoones@hamilton.edu, x4178) for an account.
If you are working on a particular project and are not sure how best to use the tools available to you, call me and we can talk about your needs, match them with the appropriate tool, and then I'll help you learn what you need to know to get the job done.
---
All past issues of the ITS Newsletter are available on our website.
back to top