Hamilton College
From the Editor

- Maureen Scoones

Each year, the National Cyber Security Alliance strives to raise awareness of the dangers of the online world. We are using an increasing number of devices to stay connected. Whether banking online, checking Facebook, or e-mailing a colleague or friend, everyone has a responsibility for staying safe online. Hard to compare this to the excitement in the 80s - personal computers with the beginnings of a networked environment, but still no Internet!

Cyber Security Awareness Month

- Maureen Scoones

Cyber Security Awareness Month is observed during the month of October, but online safety should be observed year round. Some tips from StaySafeOnline.org:

STOP. THINK. CONNECT.

STOP. Before you use the Internet, take time to understand the risks and learn how to spot potential problems.

THINK. Take a moment to be certain the path is clear ahead. Watch for warning signs and consider how your actions online could impact your safety, or your family's.

CONNECT. Enjoy the Internet with greater confidence, knowing you've taken the right steps to safeguard yourself and your computer.

Keep a clean machine.
Protect your personal information.
Connect with care.
Be a good online citizen.

Read more about what you can do to stay safe online...
---
ITS Haunted House - Technology Ambassadors
Join the ITS Technology Ambassadors for the ITS Haunted House of Electronic Horror, a series of skits designed to emphasize the importance of cyber security, and the concluding event of Cyber Security Awareness Month at Hamilton College. On Sunday, October 30th, from 4 to 7 p.m., the House will be set up over three rooms, demonstrating various aspects of cyber security:
The importance of computer security in the Library 24-Hour Reading Room,
The importance of mobile security in the Library Browsing Room, and
The importance of computer health in the Taylor Science Center Atrium.
These skits will be classical tales of what can go wrong if proper cyber security measures are not followed, and exist to warn members of the Hamilton community about the things that go bump on their computers!
Passphrase, Not Just a Game For Kids
- Ryan Coyle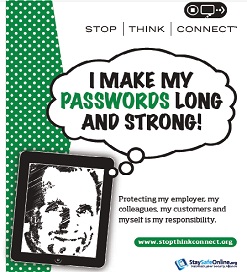 One of the more interesting pieces of malware that has been circulating throughout the Internet these days has been Morto. This worm travels the web attacking users of Microsoft's Remote Desktop with an extremely simple dictionary attack. It knocks on the door and tries its list of 32 passwords. These passwords are comprised of things like: admin, password and qwerty. If it finds a match, it slips in, takes over the system and kaboom. You're in a world of trouble.
It's the digital equivalent of a blind burglar running through your neighborhood and trying to break into homes with an old fashioned skeleton key. Here's the problem, it's surprisingly effective. Look, people don't like to remember complex or hard passwords. They have a bazillion other things that they have to remember that are more important. Whether it's making sure you don't forget the milk on the way home, the name of that cute guy down the street, or if you left the oven on (you did turn it off, didn't you?), you can't be bothered to remember some obscure or arcane set of numbers and letters. As IT support professionals, we get that. Unfortunately, cyber criminals get that too.
In today's modern world we're asked to remember passwords for everything. From bank PINs to email, network logins, Facebook, the list goes on and on. Many of these places have revolving password policies requiring you to change your password every couple months. It can easily become password overload. So what do you do? You devolve to using strings of numbers and letters which are easier to remember, or common keyboard combinations which are easy to type. Instead of falling into this trap, which can lead you to picking an easily guessed password, why not take a different approach? Instead of going with something like !@#$5678, which is easier to crack than you may think, why not move to a passphrase?
Modern authentication systems support passwords that are well over 100 characters long. For most of us, that's pretty excessive. Nobody expects you to create a 100 character password. It is however much easier to create a 20-30 character password. Consider the following examples:
Detroit Lions are 5-0.
The Green Bay Packers rule!
My son's eyes are blue.
I love racquetball!
Jay Leno isn't funny.
All of these examples score 100% on the password meter. While not your traditional passwords, all of these can be used in modern authentication systems (i.e. not on your Windows 98 computer). The trick here is to create something that is meaningful to you without being super obvious. The use of a phrase in these examples allows you, through the use of punctuation and correct grammar, to create something that is easy to remember, meaningful, and very hard to crack.
Web Editing Class Schedule

- Maureen Scoones
SiteManager classes and working sessions continue to be offered. Whether creating a page for your administrative office, academic department, student organization, or your own professional page, SiteManager, Hamilton's own web editing tool, can be used to create your web presence.
A Short History of IT at Hamilton – 2nd Installment
- Dave Smallen
1980s – Personal Computers + Telephones = ITS
In 1980 Hamilton connected eight time-sharing terminals to Cornell to expand our computing capabilities beyond the punch-card access connection that existed. This provided faculty and students with access to new programming languages and limited access to electronic mail through a network called Bitnet. The original NCR 101 computer system was upgraded several times to add more memory and disk space as administrative computing needs grew.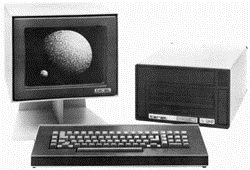 In the early 1980s Hamilton began acquiring IBM PCs, Macintosh, and Terak computers. At the time these were known as microcomputers. The Teraks had an enhanced graphics capability and assistant professor of Computer Science, Robert Ellison, wrote a word processing program called TXTFORM, which opened up the use of computers to the general faculty population. The first computer lab was located in the basement of the Burke Library. Because the room had conduits already located in the floor, the networking of the computers was simplified. During the late 80s Hamilton purchased the entire inventory of over fifty Terak computers from Pepperdine University. These computers were moved by truck from California to Clinton. By the end of the decade Hamilton had acquired over 300 microcomputers.
On October 13, 1984 the Computer Center in the basement of Burke Library was dedicated in honor of Robert E. Jones '45 an alumnus who created an endowment to support the purchase of instructional equipment. In 1986, oversight of the campus telephone system was added to the responsibilities of the Computer Center and the name of the organization was changed to Information Technology Services (ITS), recognizing the broader set of services now being provided to the campus. One year later, the office of institutional research was created as part of ITS where it remained for 10 years until it was made a separate department at Hamilton.
In the late 1980s Hamilton acquired a ROLM telephone system and began providing telephone services to students. Data networking was provided through the ROLM system to employees of the College. This was only available to people with IBM PCs or terminals. Several users of Macintosh computers were experimenting with a new form of networking called AppleTalk which allowed their computers to be connected with laser printers through the existing telephone wiring.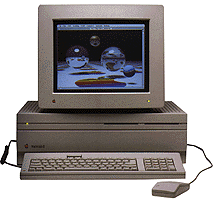 In 1987 the Pew Memorial Trust granted Hamilton $500,000 to initiate a major project to use computing to improve instruction in traditional liberal arts disciplines. The Keck Foundation also provided a grant to create the first advanced workstation laboratory at a liberal arts college. The computers used were the newly announced Macintosh II. Information technology was becoming a recognized institutional resource and the need to be intentional about its use was recognized.
The Information Technology Planning Committee was formed to assess the strengths and weaknesses of the current IT environment relative to Hamilton's goals, in the areas of campus and national networking, faculty access, classroom facilities, support services and instructional and research applications. The ITPC was to explore alternatives and make recommendations. Members of the committee included two students, faculty from the departments of economics, computer science, music, geology, English, psychology as well as the dean of faculty, vice-president for administration and finance, controller, registrar and librarian.
The desktop publishing revolution had begun and the development of a campus network was on the horizon.
back to top
---