Quick Tip Viewing Network Folders Mac
---
Back to October 2012 Newsletter
by Scott Paul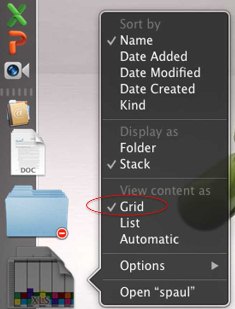 Do you find it frustrating to find files in your network-connected folders (e.g. department, academic, and personal folders on ESS) located on the Dock on your Macintosh computer? You have options. By default when you click on the network folder icon in the Dock, you see the contents in Grid view - large icons in a big window. In order to change your folder view, please do the following:
Click on the folder and enter your credentials to connect to the network folder.
Press and hold the Ctrl key and click on the network folder again. In the menu window that appears, select List.
Click on the folder a third time and you should now see the files and folders in list view. This is similar to the list view when you view folders on your local computer.
Please note: This is not a global setting, therefore you will have to go through this process for each network-connected folder.