Hamilton College
From the Editor

- Maureen Scoones

The world of technology is an ever-changing landscape, and with it, the services and support we provide. In this newsletter, changes in services and challenges we face in the future are highlighted.

SiteManager Upgrade and Website Refresh

- Maureen Scoones

Work on the website refresh continues. C & D is working with site owners to address content issues including missing content and broken links. As individual sites are stabilized, SiteManager editors who completed the training will receive notification when they are able to make edits. Site owners without access to SiteManager can send change requests to emedia@hamilton.edu. Thanks to everyone for their patience as we work to complete this complex project.

If you have not yet taken a class, October's SiteManager 3.0 class schedule is now available (as well as a late addition to the September calendar (Sept. 28) and an early addition to the November calendar (Nov. 3).

Internet Connection Speed Increases by 50%

- Dave Smallen

Hamilton is in the process of increasing its connection speed to the Internet by more than 50%. Last year we were connected at 80 megabits per second (Mbps) and we have already increased to 100 Mbps. Time Warner will be replacing some electronics and we expect to complete the upgrade to 125 Mbps by the end of fall break. We plan on this type of increase every three years.
---
New Approaches to Showing Films in the Evening
- Dave Smallen
ITS has been working with faculty to find a cost-effective way to show films to classes in the evening. These discussions have resulted in four models for faculty to choose from:
Self-service for Hamilton-owned films (the preferred method)
The faculty member reserves the room, checks the materials out of the Media Library, shows the film (or has a student do it) and returns it to the Media Library. ITS will work with the faculty member to assure he/she is comfortable with the equipment in the space where the film will be shown. Emergency response to problems will continue to be provided by ITS.
ITS-assisted service for Hamilton-owned films
The faculty member reserves the room and sends the following information for each film to ITS, at least five (5) business days in advance:
Name of the faculty member
Title of the film
Call Number (from the library catalog)
Date of showing
Time of showing
Location of showing
Approximate time length of film
Format (VHS, DVD, Blu-ray, 16 mm, other)
Any special considerations (e.g. showing should include English subtitles)
ITS-assisted service for films not owned by Hamilton
The faculty member reserves the room and sends the following information for each film to ITS, at least two (2) weeks in advance (this information is needed to research and order the film):
Faculty member name, e-mail address, phone #
Title of film, including English translation if title is foreign
Director and/or major performer
Format desired
Source, if you are aware of one (a web link is helpful)
Will it be for the class only, or do you plan to advertise or invite others?
Date(s) of showing
Time(s) of showing
Location of showing
For the ITS-assisted services, ITS staff will be responsible for starting the film, responding to problems and retrieving the film for return to the Media Library. Please note, ITS will not remain for the duration of the film. If there are many films shown at the same time the start time will vary by a few minutes per film.
ITS customized service
If the faculty member is willing to take on more responsibilities with respect to showing the films ITS will customize the above models to a greater degree.
On-line forms are being developed that will be used by faculty to enter information that will be used to retrieve items from the Media Library and provide the necessary instructions to the student who will start the showing. Working together with the Media Library the process of putting films on reserve and arranging for deliveries will also be simplified.
HillConnect News and Opportunities
Nested Labels in HillMail - Debby Quayle
Do you wish you could see your subfolders indented under the parent folder? You can! All you need to do is activate the "Nested Labels" lab add-on in HillMail. If you have never used a "lab" add-on, click on the Settings link in your HillMail account. From there, select Labs. The add-ons are listed in alphabetical order. To try the Nested Labels add-on, simply click on the dot next to "enable." The change will be immediate; however, you may want to adjust your folder/label names to make them appear properly. In the example at right, each subfolder name must be prefaced with the exact spelling of the top level label (e.g. Events/). Please keep in mind that the lab add-ons are not published by Google. They have been tested, but are not guaranteed to be bug-free. If you suspect a lab is causing a problem, simply return to Labs and disable the add-on.
Make HillConnect Your Default E-mail Client for mailto Links in Firefox - Scott Paul
Applies to Firefox 3.0 and Higher Only.
Open Firefox and type in http://hillconnect.hamilton.edu and log in.
In the address bar enter the following: javascript:window.navigator.registerProtocolHandler("mailto","https://mail.google.com/a/hamilton.edu/mail/?extsrc=mailto&url=%s","HillConnect") or copy and paste the entire line starting from javascript and ending with HillConnect")
Now hit the <Enter> or <Return> key.
You should see a pop up bar appear saying "Add HillConnect (mail.google.com) as an application for mailto links?". Click the Add Application button in the menu bar on the right.
Windows Users
Select Tools, then Options and click on the Applications icon.
Type: mailto in the search bar.
Under Action, select Use HillConnect option.
Click OK.
Mac Users
In the menu bar click Firefox, then Preferences and click on the Applications icon.
Type: mailto in the search bar.
Under Action, select Use HillConnect option.
Close the window.
HillConnect Q & A Sessions - Maureen Scoones
Do you have more questions about the HillConnect environment. Come to an upcoming HillConnect Q&A session.
Mobile Technology – The Challenge of Supporting Personal Technology
- Dave Smallen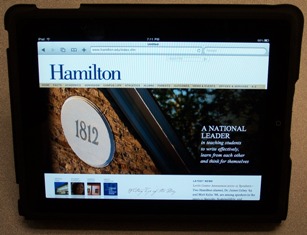 iPad, Kindle, Nook, iPhone, Droid, Blackberry - These are all examples of devices that combine small size and weight, wireless connectivity and long battery life with the ability to perform a growing number of useful information tasks. Making phone calls, playing music, taking pictures, displaying books, sending text and e-mail messages and maintaining calendars are among their many basic capabilities. The applications for these devices continue to evolve in the direction of highly convenient personal electronic assistants, helping us to avoid getting lost, finding good places to eat and even managing our wardrobe. An emerging challenge to ITS is how to provide help to users of these tools.
These are "first generation" devices, experiencing rapid change - generally every 12-18 months. They do lots of things, but not necessarily as well as the things they are intended to ultimately replace. For example, e-book readers such as iPad, Kindle, Nook, iPhone are quite good at displaying text (even being able to adjust the size of the text) but a common complaint is they do not permit the kind of annotation that students find very useful when reading a textbook (e.g. highlighting). Also, an e-book can't be as easily given to another person when you are done reading it. Eventually these kind of issues will be resolved as the technology continues to develop. In the coming decade the printed textbook will disappear, with students licensing access to the textbooks they need and reading them on one of these devices.
It is clear that the future direction of IT in higher education is going to emphasize mobility (already 98% of our students come with cell phones and laptop computers, with half of those phones being able to access the Internet (so called "smart phones")). Mobile devices will become increasingly "personal" - customized to the needs of an individual with purchasing of software and content (media of all kinds) done electronically. Keep your credit card handy!
This makes it very difficult for ITS to provide the same level of support as we do for desktop or laptop computers where we can identify "standard" software that we recommend most people use. For now our focus is assuring that these devices can work on our campus network and access our core systems such as Hill Connect (e-mail, calendar, documents). We are experimenting as fast as we can to determine what other ways we can be helpful.
Quick Tip - Clear Your Cookies
- Scott Paul
If you have problems accessing certain websites try clearing your cookies. A cookie is a piece of text stored by your web browser, e.g. Firefox or IE and can contain information about you, for example: your login information (i.e. when you hit "remember me"), your site preferences, or shopping cart contents when making an on-line purchase.
Internet Explorer - Windows only
With Internet Explorer open click on Tools.
Select Internet Options.
Click on the Delete button.
When the Browsing History opens only have the box labeled cookies checked.
Click Delete.
Click Ok.
Firefox - Mac & Windows
With Firefox open click on Tools.
Select Clear recent history.
When Clear Recent History opens select time range to everything.
Only have the box labeled cookies checked.
Click Clear Now.
---