Hamilton's history may go back 200 years, but technology as we know it today has a much shorter history. Some 50 years ago the Internet didn't exist and Hamilton faculty wanting sizable computing power needed to drive to Syracuse or Colgate. Did you know that a mere seven years ago nearly 80% of students were using Windows computers? In this issue, we reflect back and marvel at the rapid rate of change, while highlighting some recent changes too!

HillConnect E-mail Delegation Now Live


- Maureen Scoones


HillConnect's e-mail delegation feature is now live. According to Google, the feature allows you to "delegate access to your Gmail to another person so they can read, send, and delete messages on your behalf. You won't be able to give anyone permission to change your account password or settings, or chat on your behalf." If you need someone to monitor your e-mail account, don't share your password, grant access to your e-mail through Gmail delegation.

ITS Welcomes Wendy Look

- Maureen Scoones


The next time you call the ITS Help Desk, you may be speaking with Wendy Look. Wendy joined ITS on August 17, 2011 in the position of Information Technology Assistant at the ITS Help Desk. She is a 2011 Hamilton graduate and former student employee in the ITS Help Desk. We are thrilled to have Wendy back on the Hill!

October Preview: Cyber Security Awareness Month

- Maureen Scoones

October is Cyber Security Awareness Month. Throughout the month, we'll be sharing tips and resources to help you stay safe online. To coincide with Cyber Security Awareness Month, the ITS Technology Ambassadors, a group of students in ITS assisting with technology instruction and outreach to the College community, will be launching a student version of the ITS Newsletter.
---
If you've noticed on your computer a little icon in the corner bugging you to update your Adobe software or Java you're not alone. Vendors such as Oracle and Adobe frequently release security updates to those applications to close holes in the programs which hackers can use to install malware or viruses on your computer. It's very important that these updates are run as they help to keep your computer safe. The issue that you want to be careful of is being mindful of the extra 3rd party applications that are sometimes piggy-backed with the updates. These applications most often take the form of extra toolbars for your browsers, 3rd party anti-virus scanners or so-called registry cleaners.
These applications are bundled with these updates because they generate downloads and clicks which in turn generate revenue for the update manufacturers. The prevailing sense is that users are so conditioned to click through installation screens that they rarely pay attention at all to what it is that they're clicking on. Even with federal legislation such as the "Spy Act" and the state legislation such as the "Consumer Protection Against Computer Spyware California Act" application vendors are still able to sneak in these 3rd party applications into their updates by creating a checkbox which you can uncheck to not install the extra software. This absolves them of liability as it puts the onus of not installing the software on the user.
You will find that many programs that are found on the Internet use this same pay model. Many of the "free" programs that you download embed these other third party applications as a way to generate money. The best way to protect yourself from clogging your computer up with extra programs is to think twice and click once. When installing these updates, click carefully through the installation prompts and look for places where the installer is asking for your consent to install additional software. Following this simple rule will help keep unwanted software off your computer and help keep it running in tip-top shape.
Each year, since 2004, we survey incoming students about the technology they bring to campus. Here are the results for the class of 2015 with some comparisons to the class of 2008.
97 % brought laptop computers (compared to 93% in 2004)
2% brought desktop computers (compared to 7%)

In 2004,

7% of students did not bring computers, some students brought both a laptop and a desktop
10% of the laptops were not equipped with wireless access

38% are running the Windows operating system (compared to 80%)
68% are running the Macintosh operating system (compared to 19%)
97% brought a cell phone (compared to 86%)
60% already had a Gmail account before coming to campus (Gmail was launched as an invitation-only beta release on April 1, 2004 and it became available to the general public (still in beta) on February 7, 2007)
Other technologies used by the class of 2015:
81% brought an MP3 player (e.g. iPod, Zune)
46% brought a printer
33% brought an external hard drive
29% brought a television
11% brought an e-book reader (e.g., Kindle, Nook)
10% brought a tablet device (8.6% of them iPads)
Top software uses:
98.3% - Presentation software (PowerPoint, etc.)
98.0% - Social Networking Sites (Facebook, MySpace, etc.)
89.9% - Spreadsheet charts and graphs (Excel, etc.)
86.2% - Telephone-like communication over the Internet (Skype, Google Voice & Video Chat, etc.)
56.0% - Contributing to video sharing sites (e.g., YouTube)
81.0% - Online video services (e.g., Hulu, Netflix)
24.1% - Online multiuser computer game
33.9% - Twitter
17.0% - Podcasts
Most popular cell phones:
31.8% have non-internet capable phones
31.5% have iPhones
10.5% have Android phones
16.3% have Blackberry phones
Top cell phone carriers:
58% have Verizon
30% have AT&T
4% have T-Mobile
In the spirit of Hamilton's bicentennial, I offer the first of five installments of the semi centennial history of information technology at Hamilton. This month we cover the period prior to 1980.
1960s – On the Road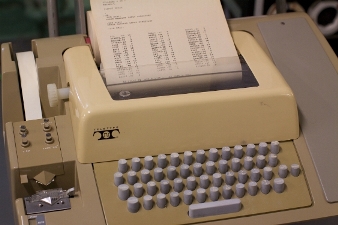 The 1960s was a period of experimentation with computing, mostly by the department of mathematics. The Internet didn't exist and access to computing meant travel by car to Syracuse or Colgate Universities. During this period a committee, chaired by Professor of Mathematics Brewster Gere, was formed to do a preliminary study of options. The committee report highlighted the need for a center that served both academic and administrative computing needs and recommended that we consider access to a computing facility at a large university. As the decade came to a close, Hamilton had three teletypes connected to the Rome Air Development Corporation (at Griffiss Air Force Base) which allowed Hamilton faculty and students access to the BASIC programming language. The local press described the teletypes as providing "access to space-age technology." It was also recommended "that immediate installation of tabulating equipment for administrative purposes was a good idea." This equipment was installed in the basement of South dormitory and moved to Dunham dormitory in the early 1970s after a flood in South.
1970s – Collaboration with Cornell
The early 1970s saw a variety of recommendations from consulting firms and individuals. The basic conclusions were that while the teletypes to RADC seemed to satisfy the basic needs in the sciences, the needs of the social sciences for access to statistical packages were not being met.
As Hamilton and Kirkland approached the spring of 1974 the issue had been studied from almost every direction. During the planning for the Burke Library, Professor of Government, Eugene Lewis suggested that the new library should have a room (in the basement) that would eventually serve as an access point for terminals to meet the needs of the social sciences. This room was part of the library when it opened in 1972 although it was never used for that purpose.
At lunch in the Bristol Campus Center in the spring of 1974, acting president Martin Carovano, and acting provost Eugene Lewis asked assistant professor of Mathematics, David Smallen, if he would be interested in directing a new organization to be called the Computer Center. This organization would serve the academic and administrative needs of Hamilton and Kirkland Colleges. The new facility would be located in the basement of the Burke Library, the only building on campus that had air conditioning.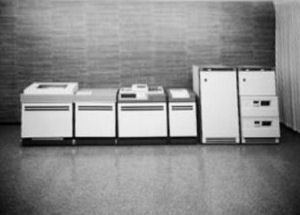 The key insight for resolving the question of what computer to purchase and how to meet the needs of the social sciences came from a Hamilton undergraduate, Michael Kaplan '75. Michael had spent his summers working for Cornell University and had heard that they were considering providing access for other colleges to their mainframe computer. Contact with Cornell was made and an arrangement worked out that would provide Hamilton access to Cornell's computing resources through the method of remote job entry (RJE). Hamilton jobs were transmitted on punched cards over telephone lines and results returned to a printer at Hamilton. The Hamilton community had access to statistical packages that would meet the needs of the social sciences as well as access to a variety of programming languages that would meet the needs of the scientists. Hamilton purchased an NCR 101 computer system for administrative computing and to provide the RJE connection to Cornell. This computer had 32 MB of memory and 20 MB of disk space (current desktop computers have more than 1000 times more of each). The connection to Cornell, provided over a leased 19.2mb telephone connection, fulfilled the prediction made by Professor Gere in the 60s.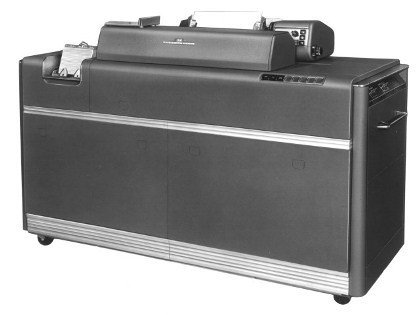 The joint announcement by presidents Carovano and Babbitt: "Computer Service to Open" was made in the July 24, 1974 issue of the Clinton Courier. The staff of the Computer Center consisted of 6 people, three of whom did data entry. Louis Ouimette was the operations manager, responsible for all operations of the existing unit record (punched card) equipment as well as the new NCR 101 computer; Lucinda Bingham, wife of the Dean of Students was a part-time systems analyst, and Karin Noggle, Linda Legacy and Lorraine McGovern were the data entry operators. The programming language for the NCR system was called NEAT/3 and the first tasks were to implement the NCR payroll system and write programs to convert unit record operations to NCR operations so we could get rid of the unit record equipment, the major piece of which was the IBM 407 accounting machine. The 407 weighed one ton and had to be oiled on a regular basis.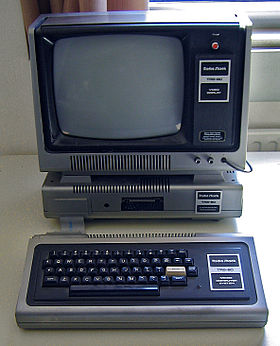 The arrangement with Cornell not only provided access to the type of resources normally found only at a major research university but enabled Hamilton to avoid investing significant resources in a mini-computer, thus preparing it to take advantage of the personal computer revolution when it started in the early 1980s. In 1977, Hamilton was recognized by the National Science Foundation, as one of 106 institutions in the U.S. selected as outstanding examples of how to use computers for teaching and learning. By 1977 we were submitting over 30,000 jobs per year to the Cornell system.
As the 1970s came to an end the personal computing revolution was beginning. The first personal computer in the Utica area was acquired by Hamilton through a gift of Elihu Root, III. The Radio Shack Model I computer had one floppy disk drive, 48 MB of memory and was used to run simulations in Chemistry as well as other programming tasks. This little computer would transform how we thought about computing.
Coming in October: 1980s – The Personal Computer Revolution Comes to Hamilton.
back to top
SiteManager classes and working sessions continue to be offered. Whether creating a page for your administrative office, academic department, student organization, or your own professional page, SiteManager, Hamilton's own web editing tool, can be used to create your web presence.
back to top
---