Citrix Unable to Open In Firefox
---
Help Desk & Training Services
Hours:
M-F 8:30 a.m. - 10 p.m.
Sat. - Sun. 10 a.m. - 10 p.m.
Users of Firefox 30 and above may find it impossible to open Citrix applications from citrixweb.hamilton.edu
The cause of this problem is a Firefox plug-in for Citrix that must be manually activated for it to function properly. The following procedure will set the plug-in to automatically launch every time you attempt to launch a Citrix app:
In Firefox, first attempt to launch a Citrix app at http://citrixweb.hamilton.edu (instructions here;)
If the Citrix app fails to launch, go to Tools (On a Mac, click Tools in the top menu bar -- on a PC, hit the ALT key on your keyboard and click Tools in the menu bar that appears.)
Select Add-Ons.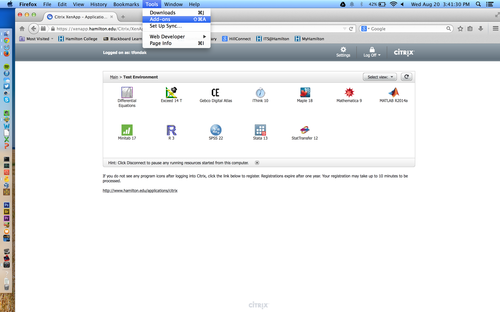 Navigate to the Plug-ins section.
Find the Citrix Receiver Plug-in (it will have a version number after the name.)
In the pull-down menu on the right side of the entry, choose Always Activate.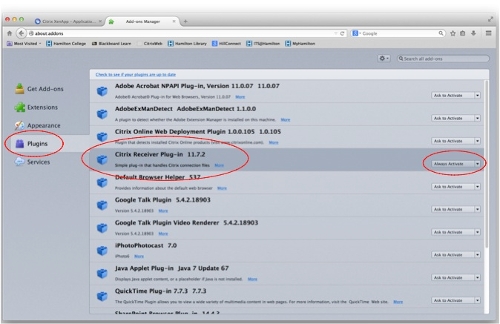 Repeat step six to "always activate" the Citrix Online App Detector Plugin.
Close the Add-Ons screen;
Attempt to launch the Citrix app.
The app should launch automatically. If it does not, please contact the Help Desk at (315) 859-4181, or x4181 from a campus phone.
Last updated: October 6, 2017