Enabling and Using Windows Update in Vista
Description: This set of procedures is designed to walk someone through the Windows Update Process. It will also tell you how to configure Windows Update so that it will automatically check for updates.
Before starting this procedure, please close all other applications and save your work.
Enable Automatic Updating
Click on the Start menu (the button with the Windows logo in the lower-left of the screen) and click on All Programs near the bottom of the menu (figure a). Select Windows Update from the list of applications (figure b).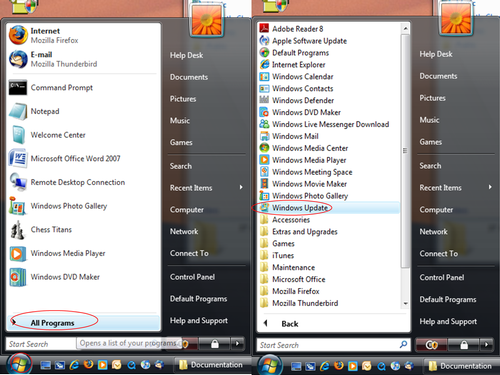 Click on Change Settings in the left sidebar.
Verify that the option to Install updates automatically (recommended) is selected. If it is not, change it so that it is selected with the default time settings. Click OK.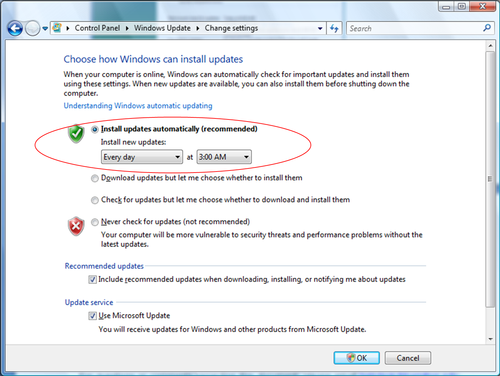 Install Windows Updates
Refer to step 1 on the preceding page to open Windows Update. When Windows Update opens click on Check for updates in the left sidebar. It will then check for updates and indicate how many are available after it has checked. Click on Install updates.
Windows Update will display the status of the updates as they are installed. After the updates are finished installing the window will indicate that the updates were successfully installed. Close Windows Update and restart if needed.
Last updated: March 23, 2018
Office Location
Burke Library
198 College Hill Road
Clinton, NY 13323
Hours
Mon-Thu 8 a.m. - 10 p.m.
Fri 8 a.m. - 8 p.m.
Sat - Sun 10 a.m. - 10 p.m.