SiteManager - How do I add custom content?
---
Help Desk & Training Services
Hours:
M-F 8:30 a.m. - 4:30 p.m.
Sa-Su Closed
Last updated: June 6, 2016
Add Custom Content
NOTE: Only use if you have knowledge of HTML.
Click on an Add Content button and select the Custom Content module.
Enter your HTML code and click on Save.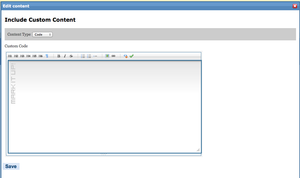 Related Links