Installing Mozilla Firefox on Windows and Macintosh Computers
For Personal Windows & Macintosh Computers
Click on the link below and follow their instructions for installing Mozilla Firefox on your operating system: http://support.mozilla.com/en-US/kb/Installing%20Firefox?s=installation&r=0&as=
For Hamilton-Owned Macintosh Computers
Download the latest version of Firefox from Mozilla's website here. Choose to Save the file.
Go to your Macintosh HD, open the Applications folder, and navigate to Firefox. NOTE: For Macintosh 10.7 (Lion) users, hold CTRL and click on the Firefox icon on your dock, choose Options, and select Show in Finder.
Move the old version of Firefox to the Trash icon on the dock.
Navigate to the file location for the new version of Firefox you just downloaded and double-click it.
In the window that appears like the one below, drag the Firefox icon to the Applications folder icon.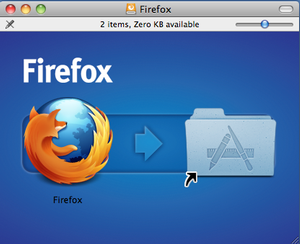 Follow the instructions.
If prompted, enter your Hamilton network credentials.
Once the installation is complete, open Firefox. The message below will only appear the first time you open Firefox after it has been downloaded. Click Open.

You have successfully installed the latest version of Mozilla Firefox and can now browse the internet with more security.
For Hamilton-Owned Windows Computers
NOTE: By default, Mozilla Firefox is set to automatically install the latest updates. If you prefer to install the latest updates yourself and check what version you are using, you can follow the steps below.
Open Firefox. Go to the Help menu and select About Firefox.
Firefox will now check for updates. You can view its progress by reading the light grey text located below your Firefox version. NOTE: Depending on how you have Firefox setup to install updates, you may see a Check for Updates button. Click that to begin checking your browser for updates.
Last updated: December 2, 2022
Office Location
Burke Library
198 College Hill Road
Clinton, NY 13323
Hours
Mon-Thu 8 a.m. - 10 p.m.
Fri 8 a.m. - 8 p.m.
Sat - Sun 10 a.m. - 10 p.m.