Microsoft Office 2011 Work at Home License for Macintosh
---
License Terms and Conditions
Hamilton College subscribes to the Microsoft Campus Agreement volume licensing program for the Microsoft Office applications used on campus (Word, Excel, and PowerPoint). This agreement includes "Work at Home" rights for Office according to the following terms and conditions:
Faculty and staff who are licensed to use the particular product at school, have the right to run one copy of that product on a home PC that they own or lease for school-related purposes only.(Microsoft Campus and School v.3.2b, 2004).
Your DVD is good for two installations: the original installation on your home machine and a reinstall if necessary.
Please do not use this DVD to install Microsoft Office on your college-owned computer.
NOTE: If you received two discs in your "at home" DVD pack, please use the DVD labeled Microsoft Office for Mac Standard 2011 (Product Key Required). The other DVD is for installing Microsoft Communicator for Mac 2011.
Recommended System Requirements
Processor Intel Processor
Operating System Mac OS X version 10.5.8 or later
Memory 1 GB RAM
Disk Space Minimum 2.5 GB of free hard-disk space required
Disk Drive DVD drive
Product Key
On the back of the DVD sleeve you will find a 25 character alphanumeric code called a product key, similar to the one shown below. Keep this product key in a safe place, it is a unique code needed to install Office and to verify your license with Microsoft.

Uninstall Old Versions of Office
NOTE: You must be logged in as an administrator on the computer in order to proceed.
Before installing Office 2011, you must uninstall any older versions of Microsoft Office currently installed on your computer. If you do not have an older version of Office on your computer, skip ahead to the Install Office 2011 section. If you do have an older version of Office on your computer, uninstall it by dragging the Microsoft Office XX folder in the Applications folder to the trash.
Install Office 2011
We recommend a custom installation to provide the necessary tools, templates, and text converters you are accustomed to using on your college-owned computer.
Insert the MS Office DVD. It should mount and open automatically.
Double-click the Office Installer icon.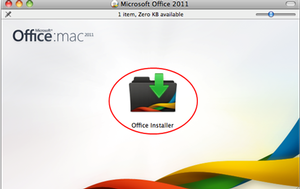 The Installer will now launch and display a Welcome screen. Click Continue.
The Software License Agreement screen will appear. Click Continue and then click Agree on the little popup window that displays afterward.
You will be asked to select a destination – select Macintosh HD (in most cases, this will be your only option). Click Continue.
The Installation window will appear. Click on the Customize button.
In the Custom Install window, click on the triangle next to Microsoft Office 2011 to expand all of the components. You may wish to uncheck components that you do not use (e.g. Outlook, Messenger, etc). Consult the table below for information on each of the available components in Office 2011.
| | | |
| --- | --- | --- |
| Office 2011 Component | Description | Recommended |
| Microsoft Word | Word Processor | Yes |
| Microsoft Excel | Spreadsheet | Yes |
| Microsoft PowerPoint | Presentation | Yes |
| Microsoft Outlook | Email Client | User Choice |
| Microsoft Messenger | Messenger Client | User Choice |
| Remote Desktop Connection for Mac | | User Choice |
| Visual Basic for Applications | Programmatic features | Yes |
| Proofing Tools | Spelling and Grammar checkers | Yes |
| Microsoft Document Connection for Mac | | User Choice |
| Office Fonts | Fonts | Yes |
| Automated Actions | | User Choice |
| Dock Icons | Create Dock Icons for Office programs | Yes |
Uncheck each component that you do not wish to install, then click the Install button.
You will be prompted to authenticate. Enter the password of the account you use to log on to the computer.
The installer will install Office 2011, which can take several minutes. When the "Installation was successful" message appears, click the Close button.
The Installer will close and the Office Setup Assistant will launch. Click on Enter your product key.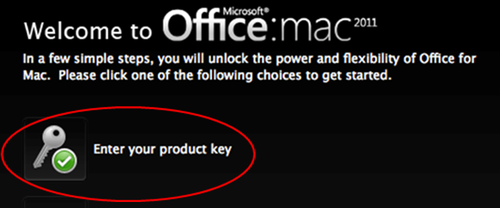 Type in the Product Key from the back of the DVD sleeve. Make sure you have an internet connection and click Activate.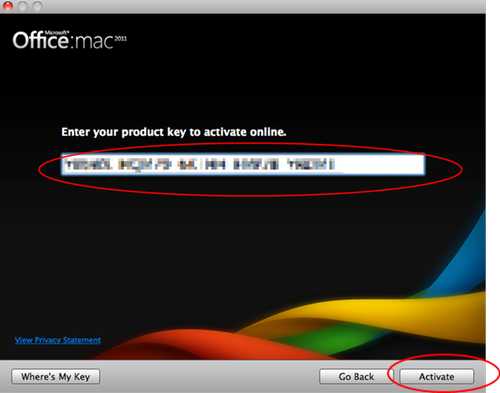 If activation is successful, you will see a message that your copy of Office for Mac is now activated. Click Continue.
At the personalization screen, enter your First and Last names in the appropriate fields. Enter Hamilton College in the Company name field. Click Continue.
At the next screen select Yes to Keep Office for Mac up to date. We recommend selecting No to the Customer Experience Improvement Program. Click Continue and then Done.
Microsoft AutoUpdate will now launch and check for updates. It should be set to automatically check for updates weekly, which is what we recommend.
Follow the prompts to install any updates found. Once completed, Office 2011 will be installed and ready to use.
Last updated: December 12, 2011