Help Desk & Training Services
Hours:
M-F 8:30 a.m. - 10 p.m.
Sat. - Sun. 10 a.m. - 10 p.m.
This document will help you set up your new iPad.
You can connect your iPad to a Mac or PC to configure it, but the new version of iOS, which is the iPad's operating system, allows for the iPad to be set up without connecting it to a computer. Note that in order to sync music, video, or apps via iTunes, the iPad will have to be connected to the computer.
Setting up your iPad
1. Turn on the iPad by pressing the power button located at the top right of the iPad. Hold the button until the Apple logo appears on the screen.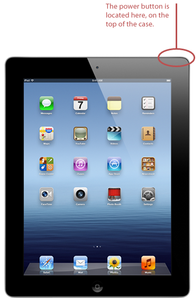 2. Once the iPad welcome screen appears, slide the button at the bottom to unlock the screen.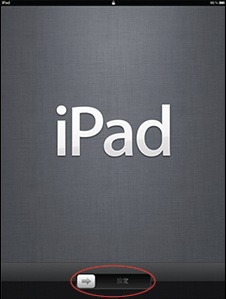 3. Select a language for your iPad and press the blue arrow button at the top right corner.
4. Select your country and press the blue Next button.
5. You must decide whether or not to enable Location Services. This feature allows your applications and websites to use information from cellular networks and GPS satellites to determine your approximate location. However, leaving Location Services on can drain your battery more quickly and may be used by apps to track you. Select an option, and then click the blue Next button to continue.
NOTE: As is the case with other settings you'll configure during this process, you can change this setting later in the Settings app.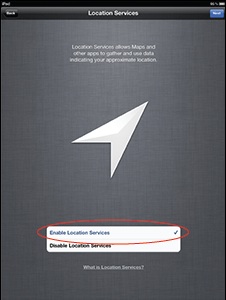 6. This screen will permit you to connect your iPad to a wireless network. In order to connect to Hamilton's wireless network, you must first select Other....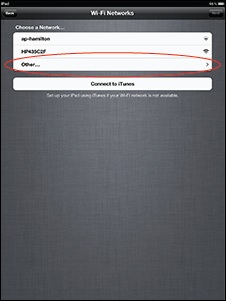 7. In the Name box, type in aps-hamilton. Thereafter, click on None in the Security box.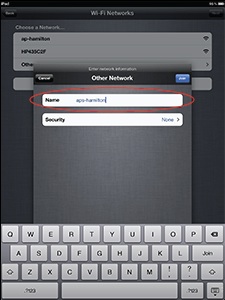 8. Select WPA2 Enterprise and then press the Other Network button in the upper-left-hand corner of the window.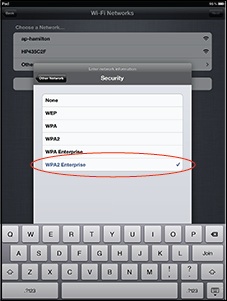 9. Input your Hamilton username (e.g. "ahamilto") and password.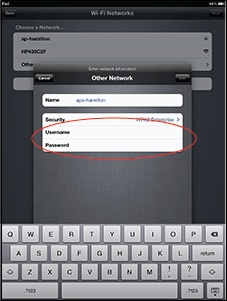 10. You will be prompted to accept a security certificate from "acs-07.hamilton.edu." Select Accept to accept the certificate. Then select the blue Next button at the top right corner.
12. This step involves an Apple ID. An Apple ID gives you access to the App Store, the iTunes Store, iCloud and more. You can sign in by entering your Apple ID, or you can create a free Apple ID. If you need more help on creating an Apple ID, visit our Creating an Apple ID page. You can also skip this step.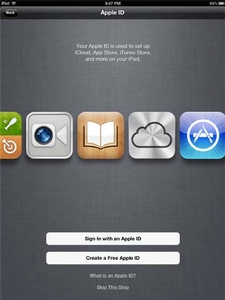 13. Click Agree to accept the terms and conditions, as shown below. Your iPad will connect to Apple's servers. This might take a couple of minutes.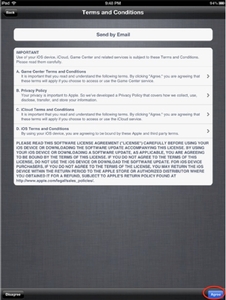 14. We do not recommend using iCloud. iCloud is an application that provides 5 GB of file storage, the ability to keep all of your iOS devices and computers connected, and other extra services. It is free to use, though Apple will charge yearly fees for extra space beyond 5 GB. We don't recommend using iCloud because of conflict issues with HillConnect, Hamilton's Google Apps environment.
So please select Don't Use iCloud. If you decide to use iCloud features like Backup, which don't conflict with HillConnect, you can set up iCloud in Settings at any time if you so choose. Please call the Help Desk for assistance.
15. Select Back Up to My Computer when prompted to. Your iPad's apps, files, and settings will be backed up to your computer every time you connect your iPad to it.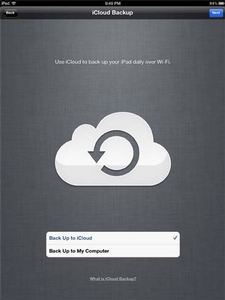 16. The Dictation feature is a useful tool on the iPad. Enabling it will allow you to speak to your iPad and have your words transcribed. We recommend enabling this feature.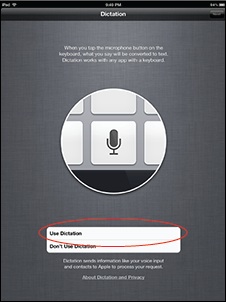 17. You can choose to help Apple find and fix small bugs and errors in iOS. We recommend choosing Automatically Send. Select an option and click the Next button.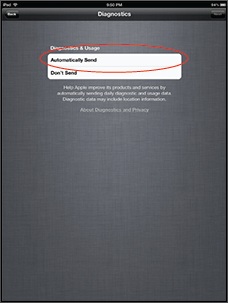 18. It is recommended that you register your iPad with Apple for warranty purposes. Apple will know that you own this particular iPad and you can get it repaired if something happens. Select an option and click the Next button.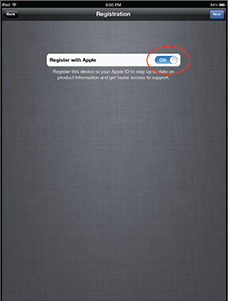 19. Finally, select Start Using iPad to finalize the setup.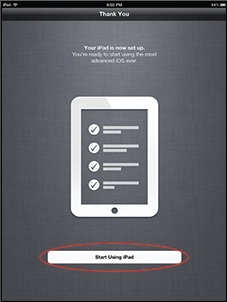 20. Your iPad's home screen should appear and your set up is complete.
Other Resources
Now that your setup is complete, be sure that your iPad has a form of backup so that you do not lose all of your data. To learn more on backing up your iPad, see the Backup and Restore Files on an iOS Device page. We also recommend that you create a passcode to keep your data secure. To learn more on setting up a passcode for your iPad, see the Setting up a Passcode for an iPad page. To learn more about configuring your email and calendars on the iPad, see the Set up Google Sync with your iOS device page.
Last updated: June 30, 2017