SiteManager - What are content modules? How do I add them?
---
Help Desk & Training Services
Hours:
M-F 8:30 a.m. - 4:30 p.m.
Sa-Su Closed
What is Content?
Content is the material that makes up the pages you create. Depending on the template you are using, you will see between one and five Add Content buttons:
Types of Content Modules
Add Content
Click on the Add Content button in the desired area. Please note: it is not possible to drag and drop content between content areas.
From the drop down menu, choose the type of module you want to add.
Click on Add.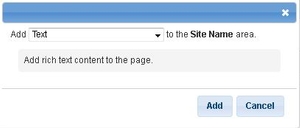 Related Links
Last updated: June 6, 2016