SiteManager - How do I add a page or file?
---
Help Desk & Training Services
Hours:
M-F 8:30 a.m. - 4:30 p.m.
Sa-Su Closed
Last updated: June 6, 2016
NOTE: SiteManager can be used both on and off the Hamilton campus.
Within the site/section where you want to add the new page, click on Add a page.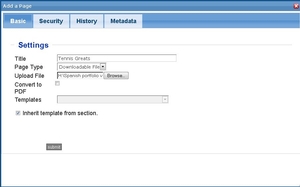 Enter a Page Title. The Page Title is what appears in your list of pages and in the blue band at the top of the web page. If you include spaces within your title, the address will include hyphens where you had spaces.
Choose a Page Type. The Page Type can be either Web Page or downloadable file, e.g. PDF, Word or Excel document.
If uploading a file, click on Browse and locate and select the file to upload. If the file is not a PDF and you want to convert it, check the box next to Convert to PDF.
The page will inherit the template design of the site/section. Click on Submit.
Related Links