SiteManager - Registration Tool
---
Help Desk & Training Services
Hours:
M-F 8:30 a.m. - 4:30 p.m.
Sa-Su Closed
The event registration tool is a resource within SiteManager that allows you to set up events with limited numbers of attendees. Please note, only individuals with Hamilton accounts can register.
To use this tool for the first time, follow these instructions:
Select Add a new Calendar.
Create a name for the calendar and press submit. Add other people to edit the events if necessary.
Select Manage Events on this Calendar. This will bring you to the event listing, allowing you to create events, and giving you the public URL to the calendar. This URL can be given out to let people register for your events.
To create an event, select Add Event. Be sure to enter your information correctly.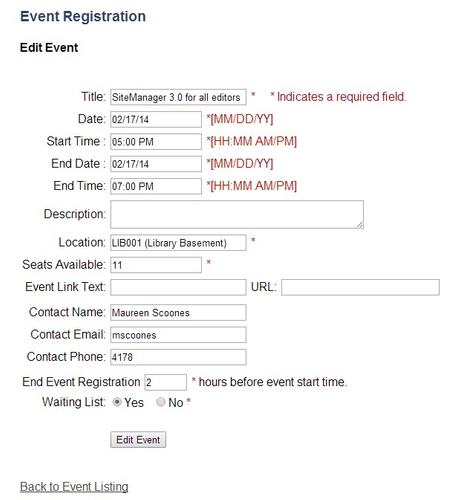 Once an event is added

You can view the Detail of the event, copy it and change the date to duplicate it.
Edit the event.
Send a Reminder to participants. Please note, the reminder is somewhat generic in nature with the name of the event and details. You cannot customize the email. Clicking once on the Reminder button will automatically send the reminder. Please note, Registrants will automatically receive an email confirmation at the time of registration.
Delete the event.
View a list of Registrants, adding or removing people, or editing their information. You can also download the list of participants into an Excel spreadsheet.
View the link for your Event Registration page.

If you already have a calendar, it will appear on the opening page, from which you can manage it.

To publicize your events, you can either submit the event to the Events Calendar, and include the registration link in the description, or you can use Google Calendar, adding the registration link to the description.
Last updated: June 6, 2016