In a web browser, go to https://my.hamilton.edu/applications/streamfile/.

Click on the Add a new video link and browse to your video file.

Add a title and display text in the appropriate fields.

If you want to require users to log in with a Hamilton College ID, place a check mark in the Restrict to Hamilton College user ids check box.

Click on the Submit Video button at the bottom of the page.

Click on the back to list link to view a list of your uploaded videos.

To view your video, click on the View link.

To put a link to your video into an email or Blackboard, copy and paste the Link text.

To embed your video into a web page, copy and paste the Embed Code.

To change the text associated with your video click the Edit link.

To delete your video, click the Delete link.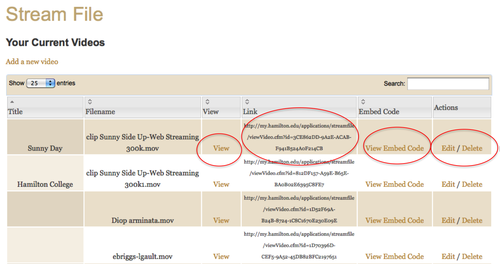 Last updated: March 23, 2018
Contact
Team Name
Research & Instructional Design
Office Location
Burke Library
198 College Hill Road
Clinton, NY 13323