Using Remote Desktop in Mac OS X to Connect to Windows XP
---
Help Desk & Training Services
Hours:
M-F 8:30 a.m. - 10 p.m.
Sat. - Sun. 10 a.m. - 10 p.m.
NOTE: These instructions are for connecting to Windows XP SP2 and 7 from Mac OS X 10.2.8 or later.
NOTE: It is recommended that the Windows Firewall be active at all times on your office computer. To turn it on or confirm its status please follow the steps below.
Click on Start, select Control Panel, then select Windows Firewall.
(Windows 7) On the left taskbar, click on Turn Windows Firewall on or off
Verify that there is a bullet in front of the option On (recommended) (in Windows XP) or Turn on Windows Firewall (in Windows 7)
Windows XP (left) and Windows 7 (right)
Configuring Windows Firewall to Allow a Remote Desktop Connection
With the Windows Firewall window still open, complete the following steps:
Click on the Exceptions tab. In Windows 7, click on Allow a program or feature through Windows Firewall.
Place a check mark in the box in front of Remote Desktop. In Windows 7, scroll down to check that the

Domain

and Home/Work (Private) is checked for Remote Desktop (for Windows 7 users, complete this step and skip to the section

Configuring your Office Computer for Remote Desktop Connection).
Click on the Advanced tab. Click on Local Area Connection to highlight it. Click on the Settings button.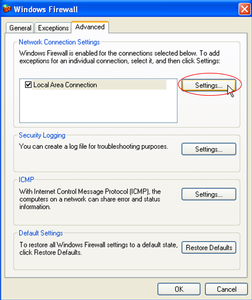 Place a checkmark in the box labeled Remote Desktop. If a window labeled Service Settings appears, Click OK.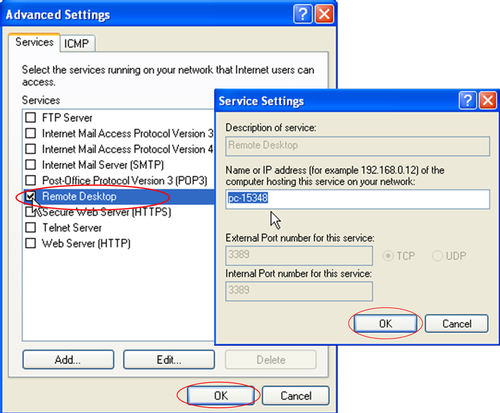 Click OK on both the Advanced Settings and the Windows Firewall window.
Configuring Your Office Computer for a Remote Desktop Connection
Click on Start, right-click My Computer and choose Properties.
Click on the Remote tab and place a checkmark in the Allow users to connect remotely to this computer box, as shown below. On Windows 7, click on Remote Settings and place a bullet next to Allow connections from computers running any version of Remote Desktop (less secure). 
Windows XP (left) and Windows 7 (right)
Verify that you have the proper permission to connect to your computer by clicking Select Remote Users… or Select Users (Windows 7).
Your domain and username should be listed as already having access (as shown below.)
NOTE: If you do not already have access, click on the Add... button as shown above and a window similar to the one below will appear. In the space labeled Enter the object names to select (examples):, type your domain (the domain for employees is Hamilton-d) and user ID. For example, Hamilton-d\dhubbard. Click Check Names and, if it is a valid username, the domain name will disappear and your username will become underlined. For example, in the illustration below, hamilton-d\dhubbard will change to dhubbard. Click OK to close the Select Users window.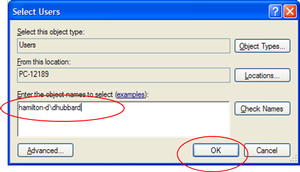 Click OK to close the Remote Desktop Users window and click OK again to close the System Properties window.
Click on Start and then click on Run…
In the Open: field, type cmd and click OK.
A box with a black background and white text will appear. Type ipconfig at the blinking cursor and press on your keyboard.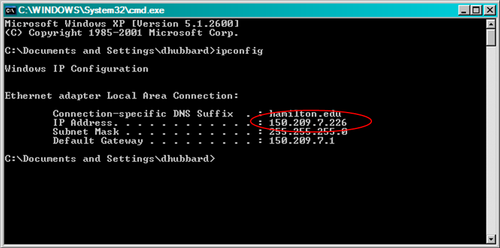 Make note of the IP Address (as shown above,) you will need to take it with you to access your computer remotely. (NOTE: You should do this each time you plan to use Remote Desktop Access as IP addresses change periodically.) Close the window.
To access your computer using Remote Desktop, your office computer must be on and connected to the Hamilton Network. You can log off of your computer and leave it turned on or you can lock your desktop while logged on. To lock your computer, press the Control , Alt, and Delete keys simultaneously, and then click on Lock Computer.
This completes setting up your office computer. These settings will remain in effect and do not need to be repeated.
Installing Remote Desktop Connection on Mac OS X
On your OS X computer, go to Microsoft's webpage for the Remote Desktop Connection Client for Mac OS X: http://www.microsoft.com/mac/downloads?pid=Mactopia_RDC&fid=68346E0D-44D3-4065-99BB-B664B27EE1F0#viewer
Click on Download Now to download the file.
If your browser asks you what to do with this file, tell it to save the file. If your browser automatically opens the file with Stuffit, skip to step 5.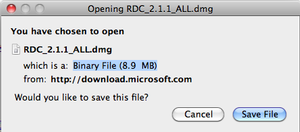 After the file finishes downloading, go to the location the file was downloaded to (most likely the desktop) and double-click the RDC_2.1.1_ALL.dmg file.
You'll now have a white volume on your desktop called RDC. Open this white volume if it isn't already open.

To install the application, double-click on the RDC Installer and follow the instructions to install the application onto your computer.
You should now see the Remote Desktop Connection application on your dock.

Connecting to Your Office Computer from a Remote OS X Computer
Open the Remote Desktop Connection application.
The first time you open the application, the End User License Agreement will pop up. Accept the license agreement. Then a window will pop up asking you to register. Click Register Later. You will not see these windows when you open the program in the future.
In the Computer: field, type the IP address (from step 10 on page 4) for your office computer. Click Connect.

In the Log On to Windows dialog box, type your network username, password, and domain and then click OK.
You may be prompted with the below message. Click Connect. Once connected, go to the RDC menu and select Preferences. Click the Security icon and select Always connect, even if authentication fails. This will remove future message prompts like the one below.

The Remote Desktop window will open and you will see the desktop settings, files, and programs that are on your office computer. Your office computer will remain locked and no one will be able to use it without a password, nor will anyone see the work you are doing on your office computer remotely. To improve performance, you will not see your usual desktop picture if you have one set up.
To Log Off and End a Session
In the Remote Desktop Session, click Start and select Disconnect.
When it asks you if you are sure you want to disconnect, click Disconnect.
Last updated: June 3, 2016