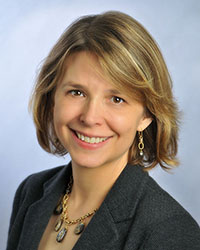 Director, Research and Instructional Design
lforrest@hamilton.edu
315-859-4476
Lisa A. Forrest leads a blended team of research librarians and educational technologists in the Division of Library & Information Technology Services at Hamilton College. As part of the Senior Leadership Team of LITS, she provides strategic planning, outreach and direction for future initiatives. Lisa is the recipient of the Excellence in Library Service Award from the Western New York Library Resources Council, and a fellow of the Educause Leading Change Institute (2014) and the Western New York Library Resources Council Leadership Institute (2009). Lisa's scholarly writing has appeared in a variety of publications, including American Libraries, A Leadership Primer for New Librarians (Neal-Schuman Publishers), College & Research Libraries News, Journal of Library Innovation, Thinking Outside the Book (McFarland), Urban Library Journal, Writing and Publishing: The Librarians Handbook (ALA Editions), and Job Stress and the Librarian (McFarland).

Current Interests and Activities
Lisa's academic interests include high functioning Library-IT organizations, leadership and strategic planning, issues in scholarly communication, and creative programming in academic libraries. An accomplished poet, Lisa's creative writing has been featured in Artvoice, Buffalo News, Damn the Caesars, eco-poetics, elimae, foursquare, The Great Lakes Review, Hot Metal Bridge, Kadar Koli, WordWrights, and Yellow Edenwald Field. Other honors received include Pushcart nominations, the "Best of Buffalo: Best Poet" award (Artvoice, 2011), and the National Public Radio News Directors Incorporated (PRINDI) Award for her radio commentary.

On Campus
Monday-Friday, 8 a.m.-4 p.m.
Unscheduled visits welcome.

More Help