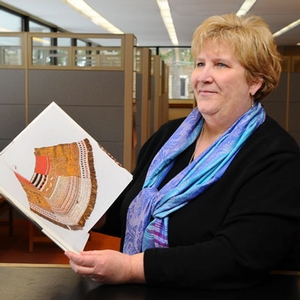 Research and Electronic Resources Librarian
lmayo@hamilton.edu
315-859-4746
Lynn Mayo received her B.A. in elementary education and M.S. in library science from the University of Kentucky. Her career in libraries began as an acquisitions and serials assistant at Transylvania University in Lexington, Kentucky. In addition to her role as a research librarian, Lynn is also the coordinator of electronic resources. She works with a team of librarians to evaluate, acquire and promote the library's electronic books, journals and databases.

Current Interests and Activities
Recent projects include the launch of the library's eBook initiative, partnering with ITS colleagues to establish a faculty iPad loan program, and consulting with students and faculty on a variety of HILLgroup and digital humanities projects. Lynn is a skilled data sleuth and loves working with students who continue to amaze her with their challenging research questions. Of course she also loves to read, enjoys cooking with friends, and Words with FriendsTM.
Reading: Elena Ferrante's Neapolitan novels
Watching: Better Call Saul, Last Week Tonight with John Oliver
"A good scholar puts a whole body of knowledge behind every sentence."
- David Esterly, The Lost Carving.

Liaison Areas
Art and Art History
Economics
Education Studies
Government
Women's Studies

On Campus
Monday-Friday, 9 a.m.-5 p.m.
Burke Library 115
Drop-ins welcome!

More Help