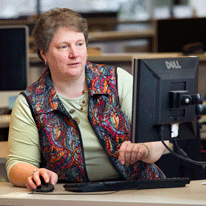 Research and Outreach Librarian
kstrohme@hamilton.edu
315-859-4481
Kristin Strohmeyer received her undergraduate degree in English Literature and Medieval History from the State University of New York at Potsdam, and her masters in library and information science from Simmons College in Boston. She has been active in the American Library Association and the Eastern New York Chapter of the Association of College and Research Libraries, serving on committees at both the regional and national levels. Kristin was recently elected secretary of the American Library Association's Library Instruction Round Table (LIRT), an organization she has been active with for years. She lives in Waterville with her husband and children.

Current Interests and Activities
Kristin is currently helping to develop a poetry reading series in Burke Library, and is working to expand the programming held in the library. She enjoys working with other organizations and committees on campus. She is always looking for ways for the library to collaborate with other areas of campus to promote student learning and faculty research.

Liaison Areas
Africana Studies
Asian Studies
Cinema and Media Studies
Classics and Ancient Civilizations
Dance and Movement Studies
East Asian Languages and Literature
French
German
History - Europe
Literature and Creative Writing
Medieval and Renaissance Studies
Middle East and Islamic World Studies
Religious Studies
Russian Studies
Theatre

On Campus
Monday 11-7pm
Tuesday-Friday 8-4pm
Unscheduled visits welcome.

More Help