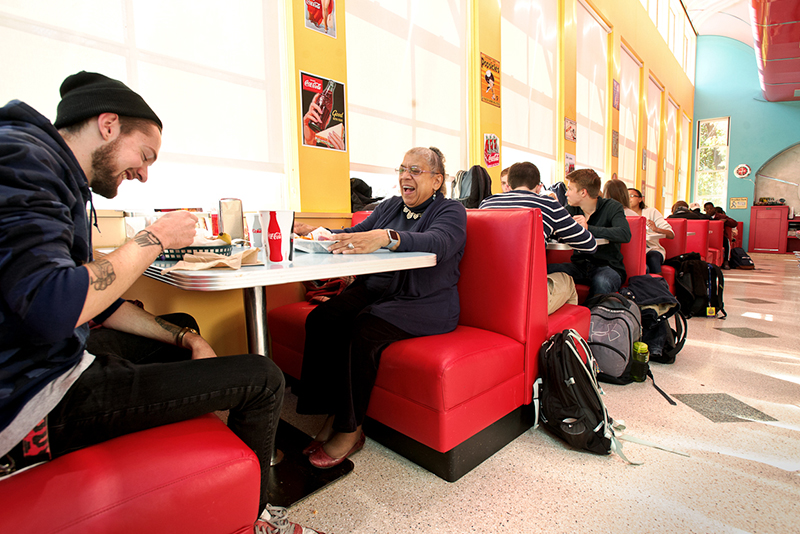 Henry Johnstone '17 and Professor Shelley Haley eat lunch in the Diner
A student's choice: Africana studies – for the whole picture
After taking two 100-level Africana studies courses his first year at Hamilton College, Henry Johnstone '17 felt the need to learn more in the field. His high school hadn't been diverse. The history books he'd been exposed to, he says, "only told the white-framed side of history" and he wanted the whole picture. And the courses were interesting and classes were small even by Hamilton's standards, which made for great discussions. Johnstone majored in Africana studies. He says it dovetails nicely with his sociology minor and his plans to become a high school teacher. He's aiming for Teach for America.
More >>

Kiana Sosa is studying dance at Pineapple Studios in London as part of her Bristol research.
A graduate's path: research abroad, then on to grad school
At the end of her senior year, Africana studies major Kiana Sosa '15 was awarded a Bristol Fellowship from Hamilton and has been on the move pretty much ever since. The fellowship enabled her to spend the year after graduation traveling the world to research a project she devised: examining hip-hop culture related to the theatre arts. Her first stop was London, where she immersed herself in the city's large hip-hop theatre dance scene. It includes professional hip-hop dancers who are exploring ways to incorporate theatre arts into their choreography. Sosa says that's exhilarating to watch but her interest is the other way around – incorporating hip-hop aesthetics into the theatre arts. Her itinerary includes Florence, Italy; Accra, Ghana; and Tokyo, Japan. Post fellowship, she'll pursue a master's degree at the Gallatin School of Individualized Study at New York University. "I proposed an area of study in hip-hop theatre and was accepted into the master's program a month before I received the Bristol Fellowship. I deferred enrollment for a year while I travel," Sosa says.
More >>