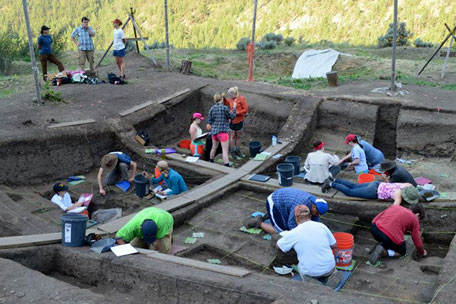 Hamilton students, including Morgan Biggs '16, excavate a pithouse in British Columbia.
At work and play, an archaeology student explores new territory
She thought she'd major in physics, but by the time she was a rising junior, Morgan Biggs '16 was sold on archaeology. She spent six weeks over a summer on a dig in British Columbia and worked the following summer analyzing the stone chips recovered from the site.
More >>
Post Hamilton, she's thinking either grad school or a job in archaeology. "I'd really like to get a job doing lithic analysis," Biggs says.
She traveled to the Slocan Narrows Pithouse Village in British Columbia through Hamilton College's field school with Assistant Professor of Archaeology Nathan Goodale. If you want to learn whether you want to be an archaeologist, Biggs advises, go to field school. She loved it. She also loved water polo. She took on club water polo her first year, even though she'd never played the sport before and was pretty much the only person in the group who wasn't a varsity swimmer. Biggs is not afraid to jump in at Hamilton. "There's a ton of opportunities. Pretty anything that I could think of that I ever wanted to do, I could do here," she says.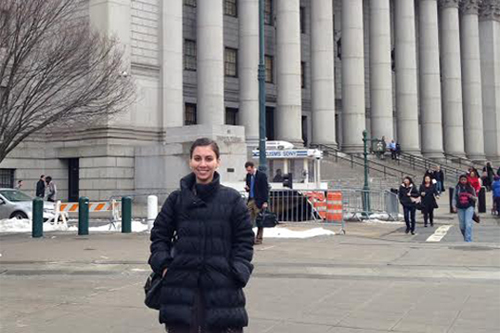 Ana Baldrige '12, who worked as a paralegal, in front of a New York City courthouse.
A graduate's progress: a Fulbright, then law school
Ana Baldrige '12 has embarked on a Fulbright English Teaching Assistantship in Argentina, where she studied abroad as a Hamilton College anthropology major. Baldrige says many of the skills it takes to be a prosecutor – her career goal – she learned from her major: researching, analyzing, writing and interviewing.
More >>
Before the Fulbright, she worked as a trial preparation assistant and paralegal in the Rackets Bureau of the New York County district attorney's office. "The ability to write and speak and conduct yourself professionally while meeting people and during interviews is so much more important than having chosen the 'right' major. Other paralegals that I (used to) work with in the Rackets Bureau majored in a range of subjects, including English, history, philosophy and religion," says Baldrige.
At Hamilton, her study abroad program focused on human rights and social movements and anthropological fieldwork methods. For a four-week independent research project, Baldrige interviewed several Mapuche people about the revival of their indigenous language.
"I felt incredibly prepared for this seemingly daunting task because it really was just an extension of the concepts and research methods I had learned in anthropology classes at Hamilton," she says.