Elisabeth MacColl '16, right, with Dr. Raouf Kahlil, during her internship in the Khalil Laboratory in the Division of Vascular and Endovascular Surgery of Brigham and Women's Hospital and Harvard Medical School.
A student's accomplishments: A Goldwater scholarship and lots of lab time
Halfway into her Hamilton career, biology major Elisabeth MacColl '16 had already logged serious research time, collected major academic honors and set her sights on a doctorate in molecular biology. She was a national Barry M. Goldwater Scholar for the 2014-15 academic year and earned the 2013 Benjamin Walworth Arnold Prize Scholarship as the class member with the best academic record, among other honors.
More >>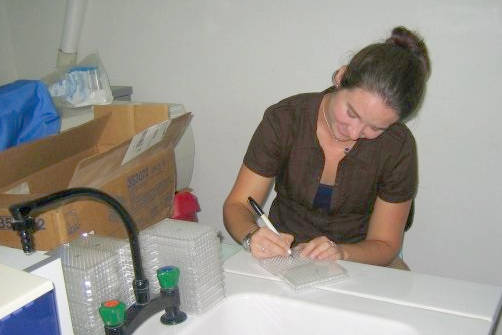 Allison Demas '07 in the field in Senegal when she was a Fulbright fellow.
A graduate's progress: study at Harvard
Allison Demas '07 is using the tools and techniques of molecular biology to study Plasmodium falciparum, the parasite that causes malaria. She is pursuing a doctorate in the Biological Sciences in Public Health program at the Harvard School of Public Health – and steaming toward her goal.
More >>