Elisabeth MacColl '16, right, with Dr. Raouf Kahlil, during her internship in the Khalil Laboratory in the Division of Vascular and Endovascular Surgery of Brigham and Women's Hospital and Harvard Medical School.
A student's accomplishments: A Goldwater scholarship and lots of lab time
Halfway into her Hamilton career, biology major Elisabeth MacColl '16 had already logged serious research time, collected major academic honors and set her sights on a doctorate in molecular biology. She was a national Barry M. Goldwater Scholar for the 2014-15 academic year and earned the 2013 Benjamin Walworth Arnold Prize Scholarship as the class member with the best academic record, among other honors.
More >>
MacColl is spending the summer before her junior year doing research at the Khalil Laboratory in the Division of Vascular and Endovascular Surgery of Brigham and Women's Hospital and Harvard Medical School. "I am currently looking into MMP proteins and their role in the pathogenesis of varicose veins, which is really, really cool. There are two post-docs in the lab, which is great because I am learning a lot just from being around them, and I am also learning a ton from working one-on-one with Dr. (Raouf) Khalil," says MacColl.
At Hamilton, she stared doing research with Associate Professor Wei-Jen Chang in the spring of her first year and kept going. "I stayed on campus last summer to continue this research, which was a blast," she says.
Outside the lab, MacColl is a Spanish tutor at a local elementary school, a Hispanic studies teaching assistant, founder and member of the intramural lacrosse team and participated in an Alternative Spring Break trip to Nicaragua.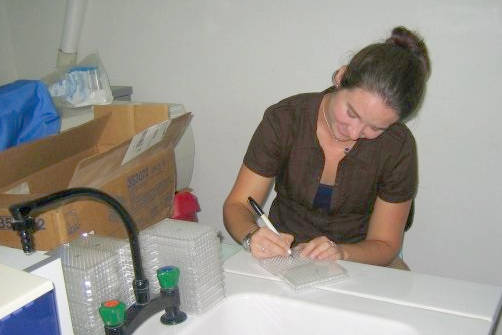 Allison Demas '07 in the field in Senegal when she was a Fulbright fellow.
A graduate's progress: study at Harvard
Allison Demas '07 is using the tools and techniques of molecular biology to study Plasmodium falciparum, the parasite that causes malaria. She is pursuing a doctorate in the Biological Sciences in Public Health program at the Harvard School of Public Health – and steaming toward her goal.
More >>
"Long-term, I plan to stay in infectious research and achieve a balance between basic science and applied public health research. I'm also interested in teaching and capacity-building in countries with less-developed scientific research infrastructure," Demas says.
At Hamilton College, she majored in biology and minored in French, which came in handy when doing fieldwork in French-speaking West Africa. She spent the year after graduation as a Fulbright fellow in Senegal on a collaborative team investigating drug resistance in malaria parasites and malaria in pregnant women. The team included the Harvard School of Public Health.
She spent the next two years as a training fellow in emerging infectious disease research in the malaria branch of the Centers for Disease Control. Now, at Harvard, she's once again part of the Senegal collaboration.