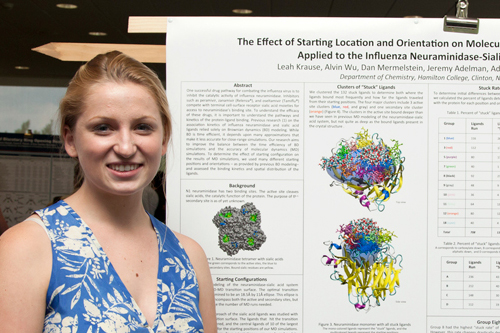 Leah Krause '14 present her research at the 11th Molecular Educational Research Consortium in Undergraduate Computational chemistRY (MERCURY) conference at Bucknell University.
A student's initiative: landing a national grant
Chemistry major Leah Krause '14 needed an extra chunk of computer time to continue her research with Assistant Professor of Chemistry Adam Van Wynsberghe. Their work focuses on a protein that is part of the influenza virus and on how a variety of small molecules bind to the protein.
More >>

Alex Thompson '13
A graduate's progress: study at Yale
Alex Thompson '13 went from Hamilton College to Yale University to earn a doctorate in chemistry. When he attains that, he wants to work in industry to develop new therapeutic drugs.
More >>