A student's discovery: communication's wide range
Courtney Power '15 has broad academic interests, so Hamilton's open curriculum was one reason she was drawn to the school. Her first year she took psychology, calculus, economics and women's studies and enjoyed aspects of all the disciplines. Power discovered that communication was a field of study that would allow her to pursue multiple passions. "I finally decided on a communication major and public policy minor, with my communication cognate in sociology. I'm very content with this combination of areas of study because I believe they are all very interconnected and related to each other," she says. Her coursework supports her career interests, which are business and law.
More >>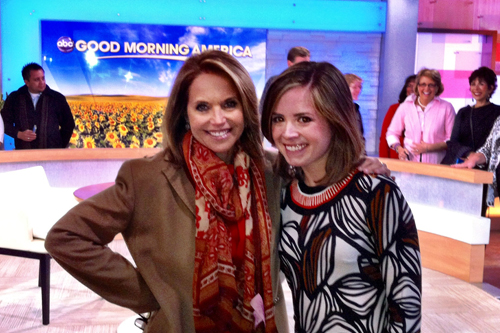 Meredith Kennedy '09, right, on the set with her boss, Katie Couric.
A graduate's progress: grad school and a job with a veteran
Meredith Kennedy '09 earned a master's degree from the Columbia University Graduate School of Journalism, where she concentrated in digital media. She works as the executive assistant to broadcast journalist Katie Couric, where Kennedy is honing her skills and her determination to stay at the cusp of ever-changing digital media.
More >>