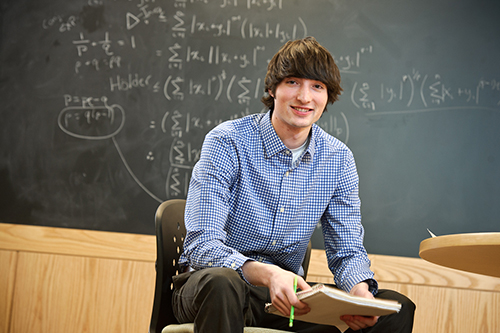 Alex Gioia '14
A student's vision: communication + math
Christian A. Johnson Hall, better known as CJ, is the locus for math students on the Hamilton College campus, which makes it fertile ground for Alex Gioia '14, a double major in communication and math. His senior thesis in communication looks at math anxiety: Math students meet at CJ for office hours and conversation, and it may be an environment in which math-anxious students can talk about their problems and reduce their anxiety level, Gioia says.
More >>
"I wanted to try to bridge my two interests with communications and math, and I thought that would be a good way to do it – to see how communication can help reduce math anxiety," he says.
He sees common ground between the two subjects.
"I guess I liked math because I like problem solving. And I like the analytical thinking, and I think that that's also a part of communication, too," he says.
Gioia spent a semester of study in New Zealand, and he is a student fellow for Hamilton's Digital Humanities Initiative. After Hamilton, he is looking at a field that tilts toward math – actuarial science.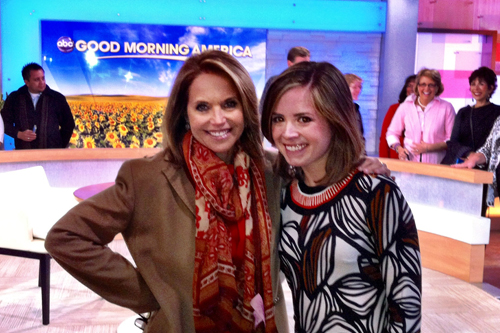 Meredith Kennedy '09, right, on the set with her boss, Katie Couric.
A graduate's progress: grad school and a job with a veteran
Meredith Kennedy '09 earned a master's degree from Columbia University Graduate School of Journalism, where she concentrated in digital media. She works as the executive assistant to broadcast journalist Katie Couric. Kennedy is honing her skills and her determination to stay at the cusp of ever-changing digital media.
More >>
Kennedy is constantly consuming information. She brainstorms with Couric and a digital team about how Couric can connect with more viewers and fans. "A typical day might include everything from researching upcoming show topics to editing remarks for a public appearance and planning social events outside the office," Kennedy says.
At Hamilton College she majored in communication and worked for The Spectator student newspaper. Coming out of Hamilton, where writing is of utmost concern, Kennedy is shocked when she gets a request or letter rife with grammatical errors and run-on sentences.
"It's a shame we can't have a writing center for adults," she says.
That's a reference to the Nesbitt-Johnston Writing Center at Hamilton College, where peer tutors work with students of all levels of writing ability to improve their work.