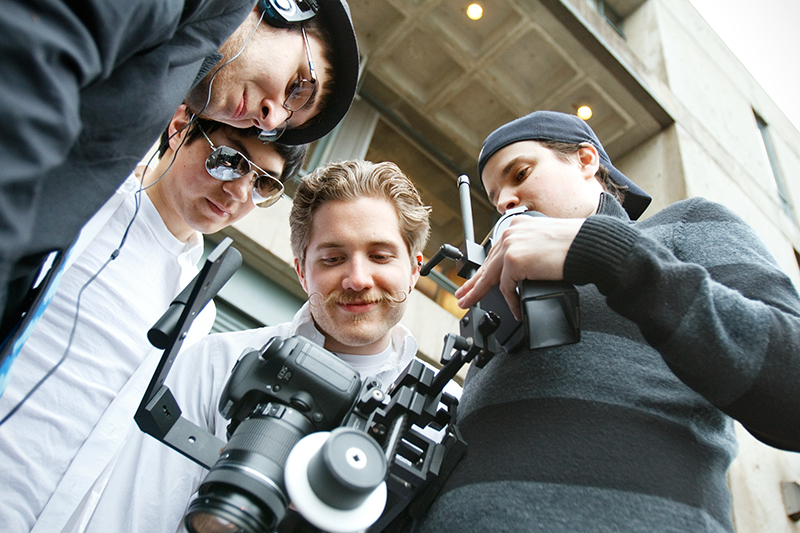 Tom Williams '11, Matt Seaman '12, Dana Quigley '11 and Ben Salzman '13 review a scene they just filmed for their movie during the 24 hour Film Fest sponsored by the Hamilton College Film Production Guild.
A student's opportunity: working with veteran artists
Ben Salzman '14 entered Hamilton College with considerable experience in music, video and the digital arts. Even so, his ability grew through his studies as an art and music major. Salzman worked with Professor of Music Sam Pellman to create a piece, "Selected Galaxies: Peculiar," which was presented at the Understanding Visual Music 2013 conference hosted by Universidad Nacional de Tres de Febrero, in Buenos Aires.
More >>
Here's a version of the piece. Pellman composed the music, and Salzman created the video.
The Hamilton digital arts program, Salzman says, gives you the foundation, opportunities and connections you need to succeed. For instance, he got the chance to work with Bob Kinkel '79, who is one of the founders of the Trans-Siberian Orchestra, to cowrite and coproduce two songs.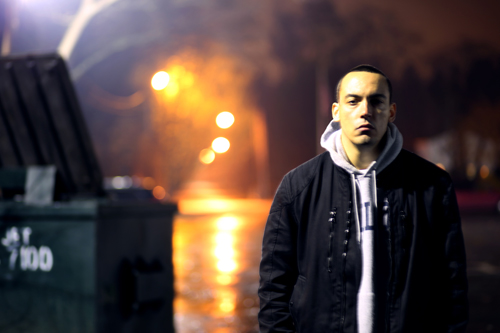 Charles "Siege" Santiago Jr. '09
A graduate's progress: launching an enterprise
Charles "Siege" Santiago Jr. '09 earned a master's degree in communication arts from the New York Institute of Technology and works at the HBO Communications Center on Long Island as an encoding coordinator, a job he loves. His deepest passion, however, is music. Skills he learned at Hamilton College are helping him pursue his dream career in his dream field. He majored in sociology and minored in digital arts.
More >>
In 2013, Santiago, who is a rapper, launched Laureate Records. His goal is to produce his own music and the music of other artists who don't fit into a commercial niche. His position as a multimedia intern in Hamilton's technical services department solidified his interest in digital arts. The College Career Center helped him get an internship at Atlantic Records, which fueled his interest in the record and music industry.
Beyond the knowledge he gained through digital arts coursework, Santiago says Hamilton helped him discover a range of interests he never knew he had, taught him to communicate well and how to overcome his shyness. An overarching lesson he learned at Hamilton, he says, was "know thyself."