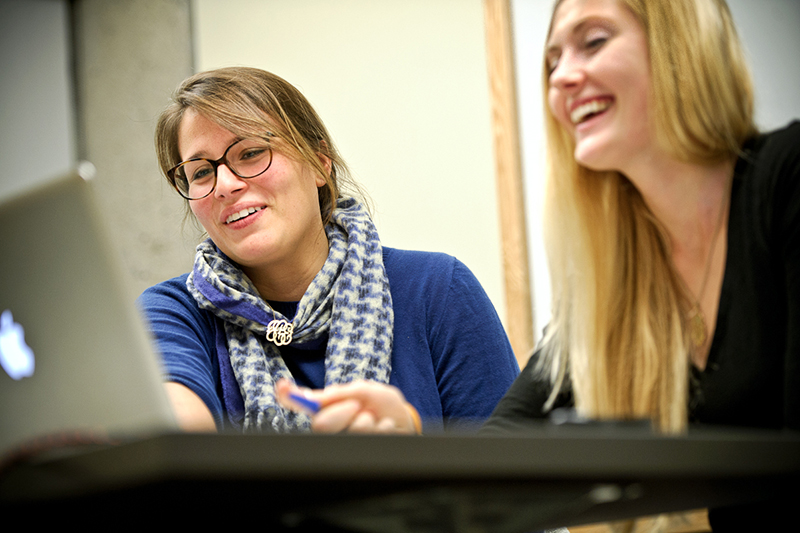 Julia Coash '16 helps a student streamline her powerpoint presentation in the Oral Communications Lab
A student's immersion in education
An assignment in a communication course – reading Seeing Voices, a book about the deaf culture by Oliver Sacks – inspired Julia Coash '16 to ponder education as a career. The summer after her first year at Hamilton, Coash tested her interest in education by volunteering for five weeks in a Peruvian orphanage for children with disabilities. Back on campus she took a disabilities studies course and launched into community service work in nearby Utica, work that included teaching swimming to children at the Kelberman Center for people with Autism Spectrum Disorder. By senior year Coash was convinced she wanted a career teaching students who have learning disabilities. She minors in education studies and communication and majors in psychology.
More >>
Alyssa Bawden '12 and her first-graders at Success Academy Harlem 4.
A graduate's progress: striving for change in schools
Teaching was not the career Alyssa Bawden '12 anticipated, but after she took an education history course at Hamilton College, her interest grew and she made education studies her minor. Right out of college, Bawden landed a teaching fellowship with Success Academy Charter Schools in New York City, then earned a master's degree. She teaches first-graders at Success Academy Harlem 4.
More >>