"I was feeling pretty inspired from the witchy, cobblestone-y, spooky atmosphere of the city, and so I decided to try my hand at a witch novel of my own," Magaziner says.
Aside from writing, Magaziner works at Scholastic's children's magazine department.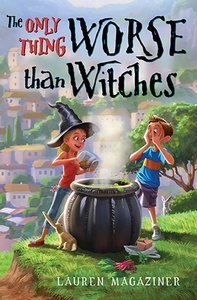 Penguin Books published The Only Thing Worse Than Witches in August 2014, and Magaziner has another book scheduled for release with the same publisher for the summer of 2015.
She knew she wanted to write books before coming to Hamilton and chose the College because it offered her the option to major in creative writing as opposed to English. "I love that Hamilton recognizes that studying literature and writing literature require different hats," Magaziner says.
She had an internship at HarperCollins children's books the summer between her sophomore and junior years. In her application, she submitted as her writing samples three workshop critiques she had written for a class at Hamilton.