A custom-made major for an aspiring social entrepreneur
Josh Glen '16 expected he would veer from a strictly traditional path, and so he did, creating a major for himself. Glen started out as a psychology major with an econ minor, then began to wonder if he could combine, econ, psychology and sociology gain an understanding of how economics works in the real world. With the help of Hamilton College faculty, Glen fashioned an interdisciplinary studies major that fit his interests. "This wouldn't have been possible without the support of faculty, and the amount of time that they've spent with me just chatting with me in their offices is amazing. I really do feel fortunate," says Glen, who studied in Prague and spent time in Israel his junior year.
More >>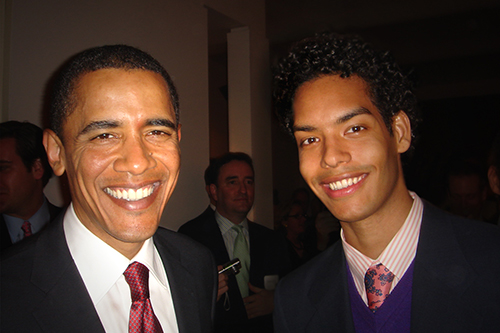 Jason Haas '07 with President Obama
A graduate's progress: activism and acting
Jason Haas '07 built his own interdisciplinary major of communications and government and added a theatre minor into the mix. It's easy to see a link between his interests at Hamilton College and his evolving career. Haas is a digital-media marketing consultant – and volunteer – for progressive organizations and socially responsible corporations. He still enjoys writing and acting for stage productions.
More >>