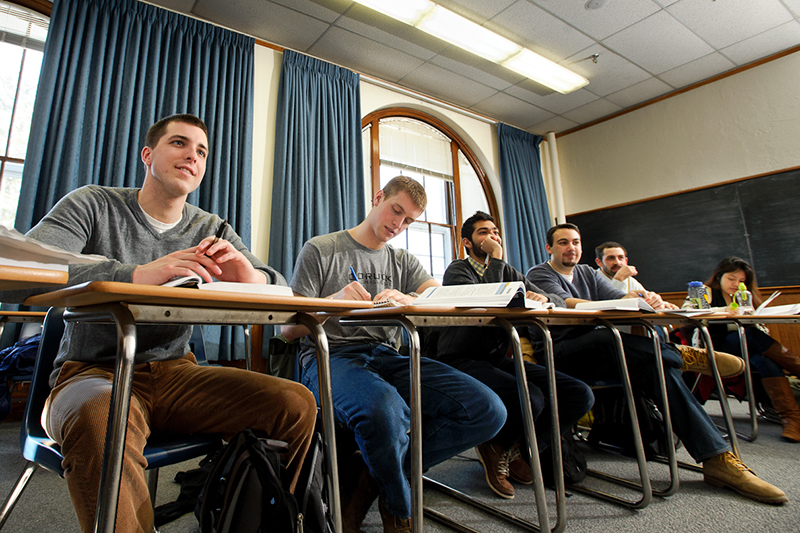 Will Boudreau '14, left, participates in discussion during his Arabic class.
A student's new interest: Arabic, for the future
On a whim, Will Boudreau '14 took an Arabic language class sophomore year at Hamilton College. "When I started taking the language we studied the language but we also focused a lot on sort of the culture and the politics and the societies of the Middle East," he says. He was intrigued. "I think with the open curriculum I was able to just take something like Arabic and it really struck an interest, and I was able to go with it," he says.
More >>
The choice was a good fit: For his senior history thesis, Boudreau is researching and writing about syncretic Islam in South Asia. He's taken modern Middle Eastern history and societies of the Middle East, among other classes, and enjoyed them all.
Boudreau has applied to the highly competitive Critical Languages Scholarship Program of the U.S. Department of State to study Arabic in an Arabic speaking country for two month after he graduates.
Over two summers, Boudreau completed the United States Marine Corps' Officers Candidates School and in May will be commissioned as a lieutenant. His career in the service is another reason for Boudreau's interest in Arabic and Middle East studies; his knowledge will be useful if he is sent to the Middle East.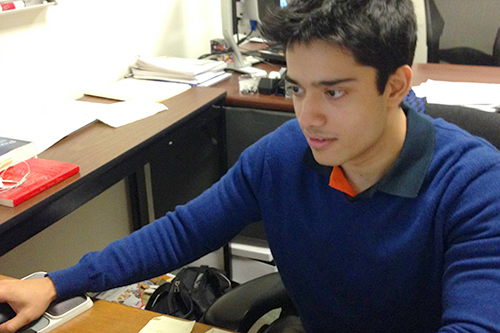 Redwan Saleh '13
A graduate's progress: the path to law school
Redwan Saleh '13, who majored in government and minored in Middle Eastern and Islamic world studies, works as a corporate legal assistant in a Manhattan law firm. Longer term, he plans to earn a law degree and work to promote civil rights nationally or internationally. His Hamilton College professors and his study abroad, he says, inspired his aspirations and passions.
More >>
Saleh spent a semester at the American University of Sharja in the United Arab Emirates. At Hamilton, he studied Arabic, served as president of the Muslim Student Association, worked as an Admissions Office intern and tutored at the Writing Center, among other accomplishments and activities.
The Middle East/Islamic courses he took on campus and abroad helped him develop a more scholarly connection with his Muslim faith, Saleh says.
"I had no idea of the profound impact of works from medieval scientists/scholars like Ibn Sina, al-Gazali or Ibn Rushd on the Islamic world and Western Europe. Even if I were agnostic, I would have appreciated the vast subject of Islamic studies that I luckily had my hands on," he says.