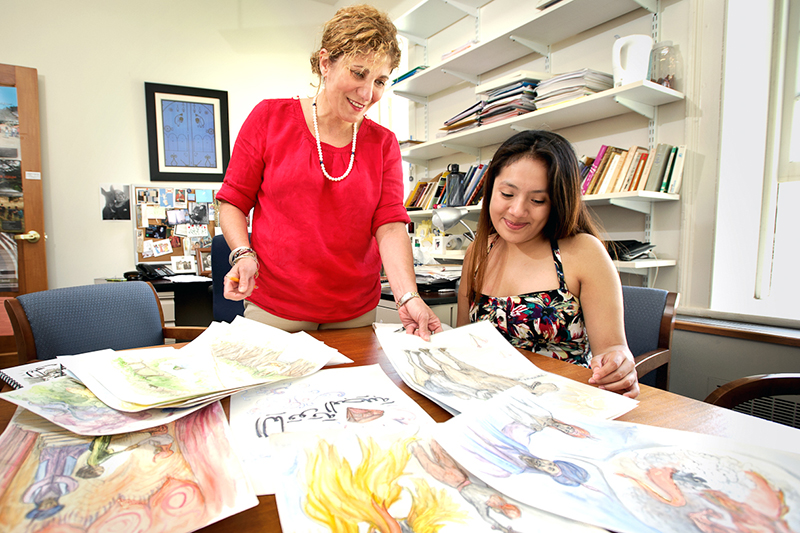 Denisse Rodriguez Mota '16 with Visiting Instructor in Arabic Mireille Koukjian.
A student in search of a challenge takes on Arabic
Already in possession of English and Spanish, Denisse Rodriguez Mota '16 was in search of a third language as she started her career at Hamilton College. She wanted a challenge and decided Arabic would give her that. In her first class, the instructor warned it would, indeed, be a challenge. It turns out she wasn't kidding, but Rodriguez Mota prevailed. She picked Middle Eastern/Islamic world studies as her minor. "I'm glad I put the time and effort into learning it because I feel like I can have a conversation in Arabic, not just a basic conversation, but an in-depth conversation," she says.
More >>
Through the College, Rodriguez Mota took part in Project SHINE, a program in which she tutored a man from Syria in English. At first she was nervous speaking Arabic with him and his children. "But once I started, I felt comfortable. And it was great using it, and I felt like I was achieving something and I was learning something," she says.
Rodriguez Mota, who majors in psychology, is spending a semester in Denmark her junior year. She wants someday to study in the Middle East, possibly after she graduates from Hamilton.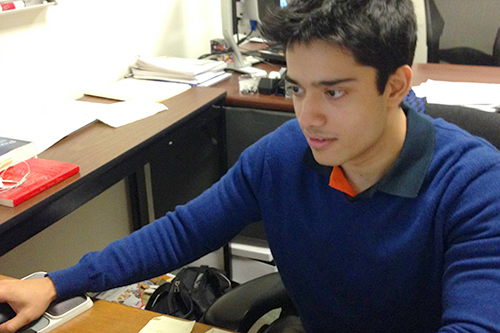 Redwan Saleh '13
A graduate's progress: the path to law school
Redwan Saleh '13, who majored in government and minored in Middle Eastern and Islamic world studies, works as a corporate legal assistant in a Manhattan law firm. Longer term, he plans to earn a law degree and work to promote civil rights nationally or internationally. His Hamilton College professors and his study abroad, he says, inspired his aspirations and passions.
More >>
Saleh spent a semester at the American University of Sharja in the United Arab Emirates. At Hamilton, he studied Arabic, served as president of the Muslim Student Association, worked as an Admissions Office intern and tutored at the Writing Center, among other accomplishments and activities.
The Middle East/Islamic courses he took on campus and abroad helped him develop a more scholarly connection with his Muslim faith, Saleh says.
"I had no idea of the profound impact of works from medieval scientists/scholars like Ibn Sina, al-Gazali or Ibn Rushd on the Islamic world and Western Europe. Even if I were agnostic, I would have appreciated the vast subject of Islamic studies that I luckily had my hands on," he says.