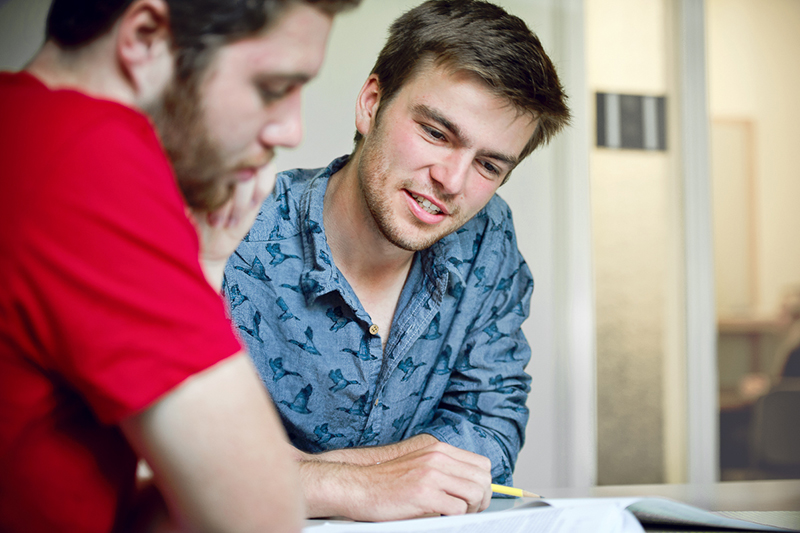 Chris Bousquet '16, right, double major in philosophy and government, tutors Conor Bradley '16, left, in the Writing Center.
A student's exploration: making the most of multiple interests
Maybe it's harder to make choices when your interests blanket the course catalogue, but Chris Bousquet '16 found a way to fit things in. He double-majors in philosophy and government; at one point he was thinking maybe physics and government or French and government. He entered Hamilton College as a Schambach Scholar, which means he has a stipend to do research in a subject of his own choosing. He went with math.
More >>
For a major, Bousquet was attracted to intellectual challenge of philosophy. Writing an essay can require hours of sitting in a room thinking about what a philosopher says and then formulating a response. "It's a very tough but a very rewarding process," he says.
His writing has improved (he's a tutor at the College Writing Center and writes for a website dedicated to long-form pieces), as has his ability to construct and analyze an argument. Bousquet formerly harbored the thought that he should study something more practical than philosophy. His coursework squelched that concern.
"I'd say more than any other group of classes I've taken here, the philosophy classes have had more influence on the rest of my abilities, the rest of my capacities to think, basically," he says.
A graduate's progress: writing for the Washington-Post
When Sean Sullivan '07 spent a semester in Hamilton College's New York City program and interned at ABC News Production, he was en route to a career. The internship led to another the following summer with ABC News "Nightline." "And that's where I fell in love with journalism. There was never a dull day. And I felt like we were telling important stories that people needed to see. It was hard work, but a really great experience," says Sullivan, who went on to a number of journalism jobs and now covers national politics for "The Fix," a Washington Post politics blog.
More >>
Sullivan majored in philosophy, a decision inspired by his Technology and Alienation class with Richard Werner, the John Stewart Kennedy professor of philosophy.
"That sealed the deal for me. We had some great discussions in the technology and alienation class and looked at philosophy through the lens of film. It opened my eyes and showed me that philosophy really isn't this arcane subject area – it's about all the everyday things we do," Sullivan says.
His studies have come in handy. "Being a student of philosophy is about thinking critically, and doing a lot of reading and writing. Which is a lot of what I do in my job now," he says.