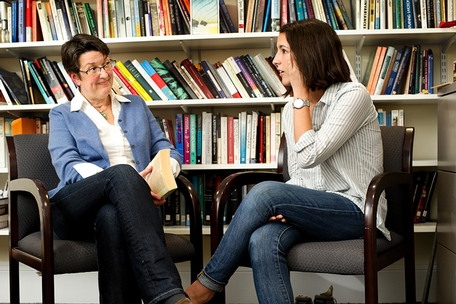 Mercy Corredor '15, right, and Professor Marianne Janack
A student's research: a summer with Hegel
It isn't your typical beach read, but Mercedes Corredor '15 is eager to spend 10 weeks of her summer immersed in a major work by Hegel. "Hopefully we'll work through most of his Phenomenology of Spirit, which is a big difficult text, but that will be fun," says Corredor, who received an Emerson Grant from Hamilton College to do summer research with Philosophy Professor Marianne Janack. Corredor, a philosophy major, wants "almost to salvage" Hegel, maybe write a defense of him.
More >>

Cara Chard '03
A philosophy grad finds her way to urban farming
When whimsy and opportunity collided, says Cara Chard '03, she learned to keep bees on a Brooklyn rooftop. It was her introduction to the burgeoning world of urban agriculture. "Opportunities that I hadn't previously known to exist presented themselves, and I took them," she says, She ran a farm-based learning program in Brooklyn for three years and then became the first employee of City Growers. She's now executive director at the nonprofit, which provides students with hands-on food and farm education on rooftop farms.
More >>