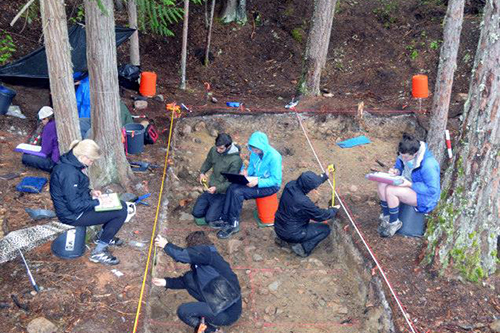 Clair Stover '14, left, on the bench, and other Hamilton students at work in British Columbia.
A student's hands-on passion for the past
For six weeks, Clair Stover '14 worked to uncover the floor of a pithouse in British Columbia, searching for artifacts that date back some 2,700 years. She was a student in a Hamilton College archaeology field immersion course, which was, she discovered, a great way to learn.
More >>
Stover took her first archaeology course as a sort of "bonus class," not as a potential major, but as she took more courses in anthropology and archeology, she realized they were consistently her favorites. She'd discovered her major.
"I have always found the mystery of connecting physical remains to a broader picture of what people, societies and landscapes would have been like in the past to be intriguing," says Stover, who worked as a teaching assistant in the department.
She minored in geosciences, which helped her on the technical side of her major.
"Archaeology is unique in that you use both technical skills when excavating and analyzing artifacts and more analytical and critical-thinking skills when interpreting what you find. I like the challenge of using both," Stover says.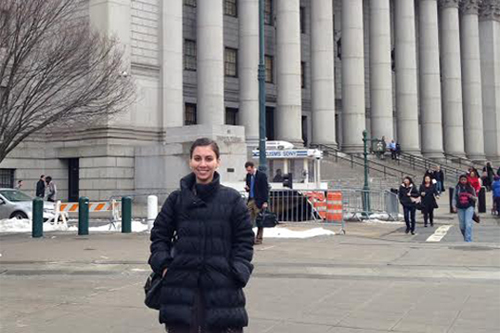 Ana Baldrige '12, who worked as a paralegal, in front of a New York City courthouse.
A graduate's progress: a Fulbright, then law school
Ana Baldrige '12 has embarked on a Fulbright English Teaching Assistantship in Argentina, where she studied abroad as a Hamilton College anthropology major. Baldrige says many of the skills it takes to be a prosecutor – her career goal – she learned from her major: researching, analyzing, writing and interviewing.
More >>
Before the Fulbright, she worked as a trial preparation assistant and paralegal in the Rackets Bureau of the New York County district attorney's office. "The ability to write and speak and conduct yourself professionally while meeting people and during interviews is so much more important than having chosen the 'right' major. Other paralegals that I (used to) work with in the Rackets Bureau majored in a range of subjects, including English, history, philosophy and religion," says Baldrige.
At Hamilton, her study abroad program focused on human rights and social movements and anthropological fieldwork methods. For a four-week independent research project, Baldrige interviewed several Mapuche people about the revival of their indigenous language.
"I felt incredibly prepared for this seemingly daunting task because it really was just an extension of the concepts and research methods I had learned in anthropology classes at Hamilton," she says.