Bryan Ferguson outside the Instituto Internacional in Madrid.
A double major and multiple goals
During high school Bryan Ferguson '17 volunteered in a pediatric oncology unit at a local hospital, an experience that helped convince him he wanted a career as a physician. He also loves learning Spanish. He majors in biochemistry and Hispanic studies and is spending part of his junior year in Madrid. He hopes to use Spanish in his career. "I know I would really love to do clinical work in Latin America. The dream is to establish my own clinic somewhere, but who knows if that will ever happen?" says Ferguson, who leads Global Outreach Hamilton, which undertook a service project in Nicaragua and is planning another. His dream has another component, discovered through summer research with Hamilton College Associate Professor Myriam Cotten and during his Summer Undergraduate Research Fellowship at Upstate Medical University in Syracuse, N.Y. He loves doing drug-design research, too.
More >>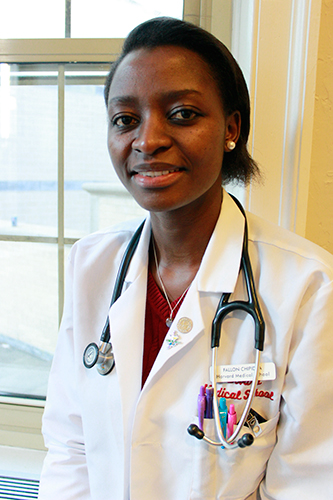 A graduate's progress: Harvard med school
Fallon Chipidza '10 is a Harvard University medical student whose commitment runs deep. "My experiences growing up in Zimbabwe were the initial factors that drew me to medicine," she says. "Like most developing countries, Zimbabwe faces many health challenges. The burden of diseases is much greater in Sub-Saharan Africa than most places in the world, so I think it was that desire to want to change the status quo that initially drew me to medicine."
More >>