Elisabeth MacColl '16, right, with Dr. Raouf Kahlil, during her internship in the Khalil Laboratory in the Division of Vascular and Endovascular Surgery of Brigham and Women's Hospital and Harvard Medical School.
A student's accomplishments: A Goldwater scholarship and lots of lab time
Halfway into her Hamilton career, biology major Elisabeth MacColl '16 had already logged serious research time, collected major academic honors and set her sights on a doctorate in molecular biology. She was a national Barry M. Goldwater Scholar for the 2014-15 academic year and earned the 2013 Benjamin Walworth Arnold Prize Scholarship as the class member with the best academic record, among other honors.
More >>
MacColl is spending the summer before her junior year doing research at the Khalil Laboratory in the Division of Vascular and Endovascular Surgery of Brigham and Women's Hospital and Harvard Medical School. "I am currently looking into MMP proteins and their role in the pathogenesis of varicose veins, which is really, really cool. There are two post-docs in the lab, which is great because I am learning a lot just from being around them, and I am also learning a ton from working one-on-one with Dr. (Raouf) Khalil," says MacColl.
At Hamilton, she stared doing research with Associate Professor Wei-Jen Chang in the spring of her first year and kept going. "I stayed on campus last summer to continue this research, which was a blast," she says.
Outside the lab, MacColl is a Spanish tutor at a local elementary school, a Hispanic studies teaching assistant, founder and member of the intramural lacrosse team and participated in an Alternative Spring Break trip to Nicaragua.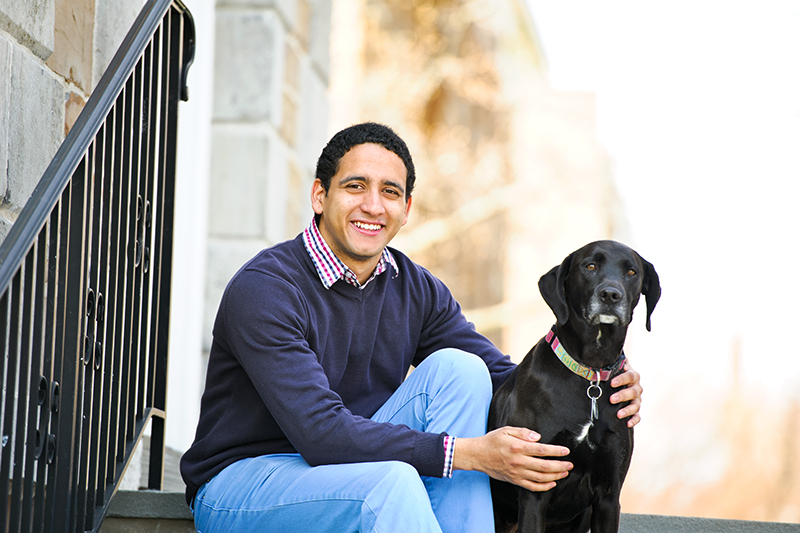 Felipe Garcia '14 with Lily
A graduate's progress: thinking critically, heading to vet school
As he heads for the University of Pennsylvania's School of Veterinary Medicine, Felipe Garcia '14 feels ready. When he worked at the Philadelphia Animal Hospital and took part in U. Penn's summer vet program, Garcia found that parasitology, anatomy with histology and his other Hamilton coursework served him well.
More >>
"Unlike biology concentrations in other places, Hamilton biology professors don't just make you memorize information. They make sure you engage with the material so that lecture material is truly understood and able to be applied in a variety of settings," Garcia says. "I was surprised at how much information I was able to recall and relate to the parasites I saw during the summer veterinary cases."
His professors, he says, taught him to ask questions and think critically about everything. "After those questions are answered, I was taught to not settle but to ask even more questions," says Garcia, who was senior class president, a residential advisor, a biology teaching assistant, an Oral Communications Center tutor, chair of the Food Committee and Senior Week Committee Chair at Hamilton.