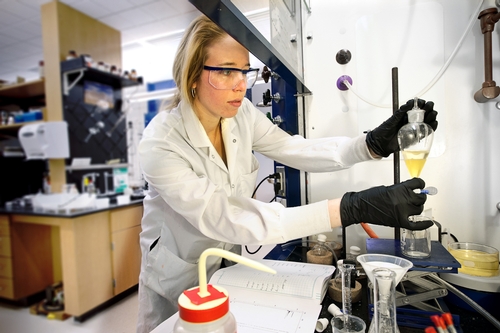 Chemical physics major Grace Williams-DuHamel '15
A student shoulders chemistry, physics – and hefty novels
Science and math are Grace Williams-DuHamel '15's métier. She's a chemical physics major and a probable math minor who earned a Clare Booth Luce Research Award and a grant form the College to conduct chemistry research over a summer. Williams-Duhamel has been known to say she'd be happy never taking another English class. Still, she enrolled in "Murder, Madness and Mayhem," a Russian lit class taught by Associate Professor of Russian John Bartle. "It was great," she says. "Loved the class, loved the books we read like Tolstoy, Dostoyevsky. It was just great. Crime and Punishment was a little rough to get through…" She picked a liberal arts college to gain exposure to subjects outside her natural element, and it paid off in great books.
More >>

Carlos Rico '10
A graduate's progress: a fellowship and pursuit of a Ph.D.
For Carlos Rico '10, studying science at Hamilton College was "pure bliss." "The professors were just so enthusiastic and loving of science, and it was very contagious," says Rico, who was a chemical physics major and is pursuing a doctorate in the Tri-Institutional Training Program in Chemical Biology through The Rockefeller University.
More >>