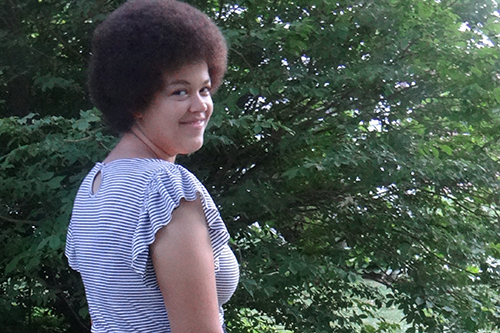 Maraina Adams '17
A student's success: a first-year award for excellence
After four years of Chinese in high school, Maraina Adams '17 started Hamilton College figuring she would minor in the language. However, faculty members spotted her for a potential concentrator. Clearly, her professors were on to something: At the end of her first year, Adams won the College award for excellence in Chinese language and literature at the introductory level. She plans to minor in art, major in Chinese and study abroad with the Associate Colleges in China program.
More >>
"The Chinese program is so strong because of the faculty. It's really amazing that the introductory Chinese class has five professors who all get to know you and are all focused on helping you to improve. Even though the work can be intimidating at times, the faculty are extremely approachable and encouraging," Adam says.
The College's reputation for Chinese and its open curriculum were among the reasons Adams picked Hamilton. "But the main factor that drew me to the school was the atmosphere I found when I visited. I could feel the community was one where I would feel at home, and that I've come to love," she says.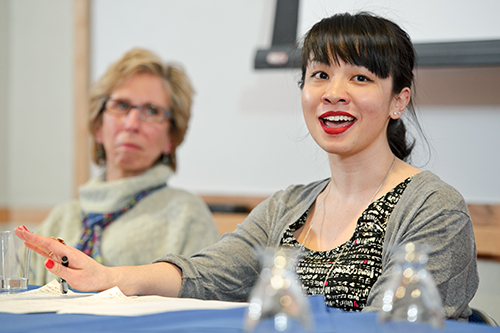 Emily Tang '08, right, returned to the Hill for an alumni Career Center panel in 2011.
A graduate's progress: a master's in China studies
Emily Tang '08 expected to go into publishing. She took her first Chinese course at Hamilton College to fulfill a language requirement for her creative writing major; now she's a China studies concentrator, specializing in emerging markets, at Johns Hopkins School of Advanced International Studies.
More >>
At Hamilton, Tang studied for six months in Beijing through the Associated Colleges in China program and later returned to China to take part in the ACC's field study program, where she learned about China's basic education system and taught summer camps in Chinese. She double-majored in creative writing and Chinese.
After Hamilton, Tang says she "meandered" a bit in pursuit of her interests, but her experiences in China stayed with her. "Teaching left an indelible impression on me – I worked primarily with children of migrant workers, many of whom were left behind in rural villages while their parents worked in big cities," she says.
Eventually Tang realized she wanted to do more within the framework of the U.S.- China relationship and went to work at the National Committee on U.S. China Relations, where she learned she would benefit from a master's degree.