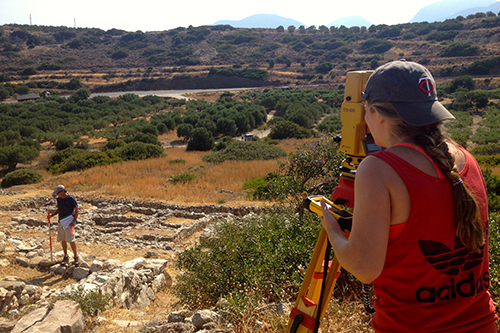 Mackenzie Leavenworth '15, right, on site in Gournia, Greece.
A student's fieldwork: history and the future
Mackenzie Leavenworth '15 spent the summer prior to her junior year immersed in ancient Greece at an archaeological dig. She came away with a stronger connection to history and more ideas for her future. Leavenworth is a classical languages major at Hamilton College.
More >>
The fieldwork in Gournia, Greece, transported her to ancient times like no coursework could and took her to another level of understanding, she says. A professor invited her to work on the dig with him and a grant from the College covered the cost.
Within two weeks they were unearthing figurines Leavenworth had seen in PowerPoint presentations back in Greek archaeology class. She found it incredible to hold in her hands the remains of everyday ancient lives.
Leavenworth says people are always asking her what she will do with the classics major – she has options in mind and the dig gave her more ideas. The list includes working in a museum and studying archeology in grad school.
For the interviews that lie ahead, Leavenworth plans to lift a line from one of her classics professors: "If I took the time to learn all of ancient Greek language – the aorist, the pluperfect, the genitive absolute – I can learn anything that you throw at me."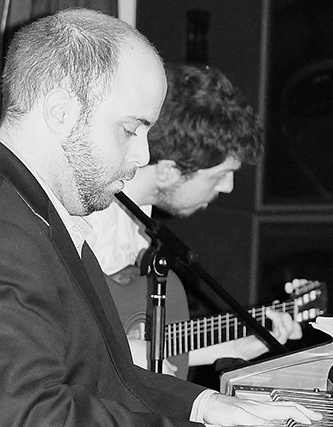 A graduate's progress:
teaching and the classics
Larry Allen '09, a teacher with a master's degree in secondary education from the University of Pennsylvania, says his classics major is a great conversation starter. It also informs his work.
"Professionally, the classics have played an enormous role in influencing my teaching. When I was in graduate school, my professors often commented that I approached teaching history and social sciences from a different direction than many of my classmates. I can't imagine teaching world history without art and literature playing a central role in the class," Allen says.
More >>
He works in a new school in Shanghai that is a partner with a private school in Florida. In 2011, Allen was among the first foreign teachers at the Nazarbayev Intellectual Schools, part of an educational reform system, in Kazakhstan.
His parents, who were both teachers, his high school teachers and his Hamilton professors helped inspire his career.
"To me, the most important part of teaching is establishing a strong relationship with your students, and Hamilton's faculty exemplifies that relationship. Hamilton's professors are approachable, accessible and passionate about working with young people. I thought that was a pretty good model to follow," says Allen, who would love to send some of his students to Hamilton someday.