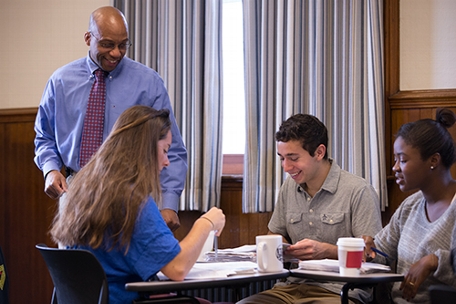 A student's layered interests and internships
Ian Rothenberg '16 discovered unexpected interests at Hamilton College even within his communication major. He first took a communication course because he thought he'd like it and it would be useful for a career in public relations or journalism. "But at this point I've become much more interested in a lot of the theory and philosophical base behind communication studies," he says. His interest in philosophy came as a surprise to him. Still, something important turned out as he'd anticipated: He gets to play plenty of music. He's a bass player and music minor. "I wanted to be able study music without going to a conservatory so Hamilton's Music Department, specifically the jazz program, really drew me here – because of Doc Woods," he says. Music Professor Michael "Doctuh" Woods is a jazz bassist and composer.
More >>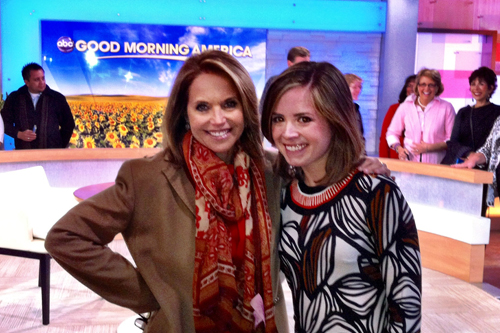 Meredith Kennedy '09, right, on the set with her boss, Katie Couric.
A graduate's progress: grad school and a job with a veteran
Meredith Kennedy '09 earned a master's degree from the Columbia University Graduate School of Journalism, where she concentrated in digital media. She works as the executive assistant to broadcast journalist Katie Couric, where Kennedy is honing her skills and her determination to stay at the cusp of ever-changing digital media.
More >>