A student's discovery: communication covers a range of interests
Courtney Power '15 has broad academic interests, so Hamilton's open curriculum was one reason she was drawn to the school. Her first year she took psychology, calculus, economics and women's studies and enjoyed aspects of all the disciplines. Power discovered that communication was a field of study that would allow her to pursue multiple passions. "I finally decided on a communication major and public policy minor, with my communication cognate in sociology. I'm very content with this combination of areas of study because I believe they are all very interconnected and related to each other," she says. Her coursework supports her career interests, which are business and law.
More >>
"I fell in love with Hamilton not for any specific academic program, but for the school's promise to teach you how to think, write and communicate. I strongly believe that these are invaluable skills that apply to any career field. If you're able to think, and efficiently and coherently express your thoughts and ideas, you're able to adapt to whatever challenges lie in front of you," Power says.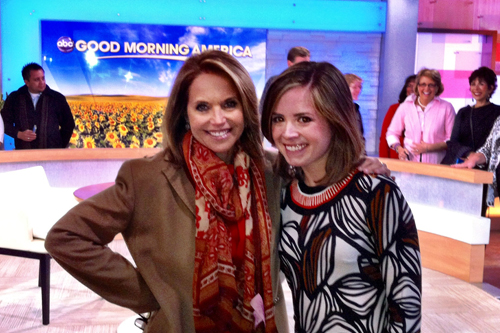 Meredith Kennedy '09, right, on the set with her boss, Katie Couric.
A graduate's progress: grad school and a job with a veteran
Meredith Kennedy '09 earned a master's degree from the Columbia University Graduate School of Journalism, where she concentrated in digital media. She works as the executive assistant to broadcast journalist Katie Couric, where Kennedy is honing her skills and her determination to stay at the cusp of ever-changing digital media.
More >>
Kennedy is constantly consuming information. She brainstorms with Couric and a digital team about how Couric can connect with more viewers and fans. "A typical day might include everything from researching upcoming show topics to editing remarks for a public appearance and planning social events outside the office," Kennedy says.
At Hamilton College she majored in communication and worked for The Spectator student newspaper. Coming out of Hamilton, where writing is of utmost concern, Kennedy is shocked when she gets a request or letter rife with grammatical errors and run-on sentences.
"It's a shame we can't have a writing center for adults," she says.
That's a reference to the Nesbitt-Johnston Writing Center at Hamilton College, where peer tutors work with students of all levels of writing ability to improve their work.