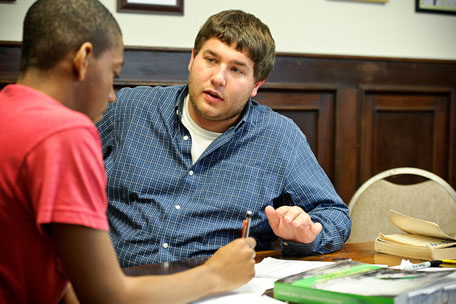 Brian Sobotko '16 tutors Clinton High School student Mark Bowling at the ABC House at Hamilton College.
A student's summer research and career discovery
The idea was his, and the College Levitt Center backed it financially. Brian Sobotko '16 would spend a summer researching "Transformational Leadership in American Public Schools," under the guidance of Susan Mason, director of education studies. The project combined his public policy major and education studies minor, and Sobotko learned a lot.
More >>
"One of the things that I got out of it is that I know that I don't want to do research permanently, because as great as it was, and as much as I learned about myself and about different problems in the system, there were just days when there was not enough human interaction for me," says Sobotko. He discovered he'd rather work in a classroom than a think tank.
He has come to believe that the most important people in education are those in the classroom, and that's where he wants to start his career. Maybe down the road he'll move into public policy. "While I'm definitely interested in public policy and the metaview of (education), I'm really also interested in the things that individuals can do; so things that school leaders can implement, which I think a lot of times are brushed over," says Sobotko, who writes for The Spectator and tutors at the ABC House.
Alyssa Bawden '12 and her first-graders at Success Academy Harlem 4.
A graduate's progress: striving for change in schools
Teaching was not the career Alyssa Bawden '12 anticipated, but after she took an education history course at Hamilton College, her interest grew and she made education studies her minor. Right out of college, Bawden landed a teaching fellowship with Success Academy Charter Schools in New York City, then earned a master's degree. She teaches first-graders at Success Academy Harlem 4.
More >>
Her initial interest in education was big picture, education reform as opposed to working in a classroom.
"I didn't necessarily think I was going to go into teaching, but I also thought it was crazy to try to do education reform without actually being in the classroom, so we'll see what happens from here," says Bawden, who majored in English at Hamilton.
Working in a school her longer-term career goal has started to shift. She's thinking now she may be able to make the biggest impact from a leadership position within a school.
Looking back on it, Bawden says she succeeded in the Success Academy program because Hamilton "set me up to be able to write and communicate and work with other people, and those critical skills have been really helpful."