Nathaniel Lanman '15
A student's shot at pure poetry
When a Hamilton College professor asked Nathaniel Lanman '15 if he wanted to join a summer research project, the answer was yes, absolutely. "I don't think you get many opportunities in your life to spend all your time on your writing, and that's what this summer really was for me," says Lanman, a creative writing major.
More >>
Through a grant from the College, Lanman and other students in the project studied an abandoned school building in a nearby city and its significance to the community. Lanman created a series of poems inspired by interviews with residents, and the poems became the basis of a theater performance.
Here's the short version of why he chose creative writing as his major: He is following his passion. Lanman has always felt an "inexplicable connection to creative writing," and poetry does something for him nothing else can.
"So I guess that's what a passion is," he says.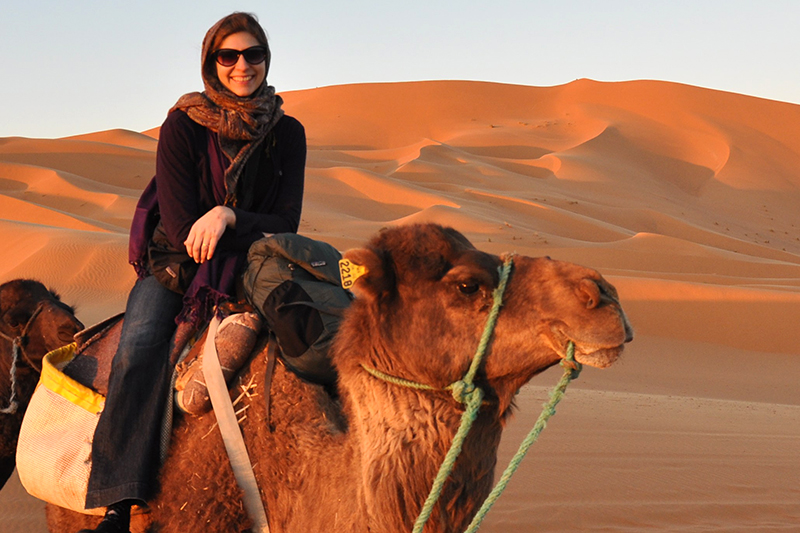 Julia Rogers '06 is seen here in Morocco, where she was doing research for her business, which provides gap-year experiences for young people.
A graduate's progress: experiencing the world, helping others do the same
Since she graduated from Hamilton College with an English literature degree, has ridden a camel in the Sahara, worked on a goat farm in New Zealand and trekked the Himalayas in Nepal. That's part of the daily grind as founder, owner and soul employee of EnRoute Consulting, a company Rogers says encourages young people to volunteer and travel as a way to get to know themselves and the world around them.
More >>
Shortly after graduation, Rogers volunteered with a public health nongovernmental organization in Tanzania. "It was far and away the most challenging experience of my life, and I felt inspired to provide guidance to young people who wanted to have a similarly life-changing experience," she says. EnRoute ensued. Rogers travels for research, creates her marketing material, produces website content and more. "My English major taught me to be an eloquent and effective writer. I made a good choice, although taking a few more marketing or econ classes would not have hurt," she says about her major. She still rereads books from her environmental literature course with Professor of English Onno Oerlemans and claims she will forever write using active verbs, thanks to Professor of English Steven Yao.